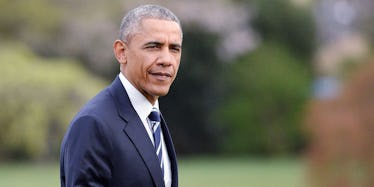 Obama Is Sending Troops And Drones To Cameroon To Fight Boko Haram
Getty Images
The United States is sending 300 troops, as well as surveillance drones, to Cameroon to aid in the fight against Boko Haram, the Nigerian terrorist organization with ties to ISIS, Reuters reports.
President Obama sent a letter to notify Congress of this decision.
Obama sends war powers letter to Congress informing 300 U.S. troops on their way to Cameroon pic.twitter.com/fjvmLSdmrM — Zeke Miller (@ZekeJMiller) October 14, 2015
Boko Haram, famous for kidnapping close to 300 school girls in April 2014, wreaked havoc in Nigeria and the surrounding region in recent years. President Obama's decision to send US troops to Cameroon is a direct response to these developments.
These American troops will reportedly provide intelligence to a multi-national force comprised of troops from Nigeria, Niger, Cameroon, Chad and Benin. They will be armed for their own protection, but the White House said they are not being deployed to engage in combat, Reuters reports.
It's unclear why the president decided troops should be sent at this time, since Boko Haram has been active for around six years at this point.
.@PressSec on Cameroon deployment: Not some "triggering event" but continued support to confront Boko Haram. On why now: "I don't know that" — Molly O'Toole (@mollymotoole) October 14, 2015
Amnesty International estimates Boko Haram's reign of terror displaced one million people and killed around 3,500 civilians in 2015 alone.
Citations: Obama sends US troops drones to Cameroon in anti Boko Haram fight (Reuters)