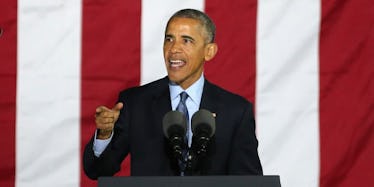 President Obama Is 'Fired Up' And Has The Pep Talk You Were Waiting For
REUTERS
This election hit a lot of people pretty hard, and it's understandable if some still haven't fully recovered.
Politics are personal, and this election cycle was long (too long), emotional and extremely divisive.
No one can blame you if you're feeling a little off.
But President Obama has a message for you if you're still struggling.
He wants you to know it's OK to be sad, but you can't mope forever -- and he'll be waiting for you when you're ready to join the fight.
I don't know about y'all, but I'm still fired up, and I'm still ready to go.
During a telephone call with Democrats on Monday, the president spoke of his admiration for Hillary Clinton and outlined what he thinks needs to be done moving forward, Huffington Post reports.
The president acknowledged that the election didn't end the way a lot of people might've hoped, but he's still proud of the example Clinton set -- especially for kids, saying,
I want to publicly say how proud I am of Hillary Clinton of a history-making race. We did not get the results we wanted, but we took a step in shattering a barrier that's still there. And little girls and little boys are going to have a different sense of the possible thanks to her nomination and her candidacy.
The president added that the pride he feels over how Clinton fought during this election doesn't mean the result still doesn't hurt. But he warned against falling into despair,
That doesn't mean we don't hurt for what was an unexpected loss. Expected losses are hard enough; unexpected ones are just worse. And that's OK. I was telling my team: You're allowed to mope for a week and a half. Maybe two if you really need it. But after that, we've got to brush ourselves off and get back to work. We need to come together and focus on a way ahead.
The president urged people to ask the "tough questions," dig deep and do a little soul-searching about what happened here, but none of that means it's time to give up,
It means that we're listening to each other, we're reflecting, we're asking tough questions, we're respectful of different points of view, we're basing our decisions on facts and careful analysis. We're taking the long view, and we're strategizing.
President Obama might be at the end of his tenure, but he's still got a lot of fight left in him. He said,
The bottom line is: I don't know about y'all, but I'm still fired up and I'm still ready to go.
This "fired up" line harkens back to a story the president has told many times and something that happened on his campaign back in 2008.
If you haven't heard the story, do yourself a favor and watch the video below. It will definitely cheer you up.
Remember this: If one voice can change a room, it can change a city, and if it can change city, it can change a state, and if it can change a state, it can change a nation, and if it can change a nation, it can change the world.
Are you fired up yet? Are you ready to go?
Citations: Obama Tells Democrats: Mope For A Week Or Two, Then Get Back To Work (Huffington Post)