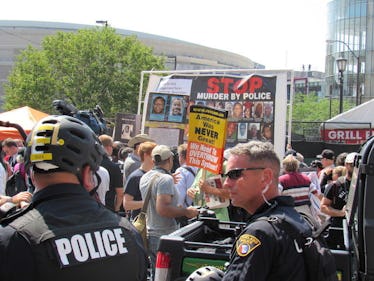 Democrats And Republicans Agree On One Thing: How Police Handled The RNC
John Haltiwanger
The Republican National Convention in Cleveland just came to a close. While many expected it to be exceptionally chaotic, it was actually relatively tame.
Yes, there were certainly a fair amount of protesters out and about in downtown Cleveland each day, in addition to individuals of various backgrounds open carrying.
But, while tensions did get high at times, and the rhetoric was indeed extreme, the event avoided any extreme instances of violence.
Much of this can be credited to the police, who exhibited incredible discipline and restraint throughout the week.
There were many protests against police brutality, and times when certain individuals, not necessarily linked to these protests, shouted obscenities at officers. But the police didn't flinch. They showed restraint and respect for people's rights.
In total, there were just 24 arrests the entire week, in spite of almost constant protests.
Indeed, if you ask people who were in Cleveland during the RNC how police conducted themselves, the consensus is pretty clear: Police did a fantastic job amid stressful and potentially violent circumstances during a politically divisive time when tensions between law enforcement and the public are also very high.
People of all backgrounds and ideologies seemed to agree on this.
Frank Ashbaugh, an anti-Trump protester from Pittsburgh who carried a sign with the word "Drumpf" surrounded by swastikas, was very positive about the demeanor of police throughout the RNC. He said,
[Police] have been fabulous here. They are well prepared, they have sufficient numbers, and their training seems to be very good. That's why we've had a relatively peaceful situation these last few days. I think they've done excellent work here at keeping the peace and being very fair-minded about all their interactions with all of us.
Janet DeSouza, a Navy veteran and proud Trump supporter who rode a bike adorned with a sign that said "Hillary for Prison," shared almost identical views to those of Ashbaugh. She said,
I'm from Cleveland, and I could not be more proud of my police department and the coordination with all of the other police agencies that are here. As you can see, I'm wearing a 'Blue Lives Matter' button… I couldn't be more proud from the chief of police all the way down to the rank and file. All of the officers that have been here… The mounted police, the dog squads, everybody on bike, everybody on foot… I'm just so proud.
Ashbaugh and DeSouza definitely disagree when it comes to Trump, but they were both very impressed with Cleveland police, among the many other departments from a number of states that also had a presence in the city during the convention.
Dontrell McFarland, a young resident of Cleveland who happened to work in the area where many of the protests occurred each day, also applauded how the police handled themselves.
McFarland stated,
I think it's been pretty good… [Cleveland] is violent… So I think they did a pretty good job with the police presence here and controlling the crowds.
Amnesty International also had a presence in Cleveland during the RNC. It sent in a team of independent human rights observers to monitor protests at the convention and make sure people's right to protest was protected.
Eric Ferrero, Deputy Executive Director for Strategic Communications and Digital Initiatives for Amnesty International, told Elite Daily,
We decided to send a delegation to both conventions, really for a combination of two reasons: both the increasingly heated rhetoric from both sides during this campaign season, combined with recent cases where the right to protest has been infringed upon in the US. We had a dozen trained human rights observers there all week, and they'll be in Philadelphia all next week.
According to Ferrero, what the observers saw was mostly positive. In his words,
For the most part, police protected people's right to protest peacefully at the convention. I think we saw a number of instances through the week where police were insuring that protesters could move safely through the streets, where they were helping ensure that opposing groups of protesters could all be safe and all express their view. The way that police managed [the opposing factions of protesters], people with widely varying views were still able to protest. We also saw there were times that protesters began to hold demonstrations or marches that were not planned or permitted and police ensured they were able to safely to do that while other people could still move through the city and get their business done.
This does not mean there wasn't room for improvement in terms of how the event was handled, and there were some concerns regarding what Ferrero described as "the sheer volume of police presence." In other words, there was an extraordinary number of officers out and about all week. The city felt much like a police state.
This is somewhat understandable given concerns over safety, but, as Ferrero put it,
Sometimes there were more police than protesters. The reason you want to keep an eye on that is to make sure the size of the force isn't squelching people's free expression or free speech.
Overall, however, at a time when recent tragedies have caused our country to ask some tough questions about the relationship between law enforcement and the public, it seems most would agree the police in Cleveland displayed extremely admirable conduct during the RNC.