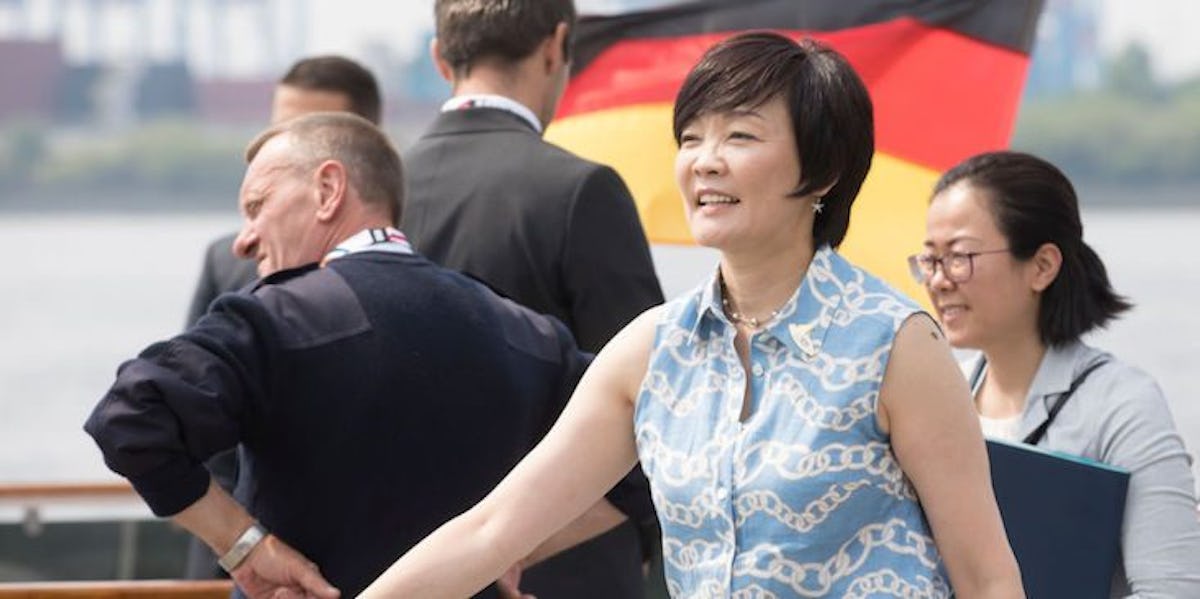 People Think Japan's First Lady Pretended Not To Speak English To Avoid Trump
Pool/Getty Images
The internet is abuzz with one hilarious tweet after another speculating whether Japanese first lady Akie Abe pretended to not speak English to avoid talking to President Donald Trump.
In an interview published Wednesday, July 19 in The New York Times, Trump was asked about a dinner at the G20 Summit held for the world leaders and their spouses earlier this month in Hamburg, Germany. Trump, who was seated next to Prime Minister Shinzo Abe's wife, said of her,
[She] doesn't speak English. ... Like, not 'hello.'
Twitter user Sam Thielman was quick to tweet out a side-by-side picture of the transcript of the Times interview and a YouTube video in which Abe gives a keynote address... in English.
As it turns out, Abe not only knows how to say "hello," she also worked at a major international advertising agency. If Twitter is any guide, people are not about to let go of this mismatch and its multiple possible interpretations.
The dinner, by the way, lasted about an hour and 45 minutes, according to Trump in his Times interview. He described this as "hard" because Abe spoke no English, making for a long silence.
Of course, we don't know whether Abe was intending to avoid Trump, or if there was another reason their dinner convo was kept to a minimum. But either way, people are reading it as the former.
But it seems a little improbable that Abe was so quiet at the dinner because of her lingual abilities. Abe certainly didn't look too shy when she toured the Morikami Museum and Japanese Gardens in Florida alongside Melania Trump earlier this year.
One user even tweeted out a video of this very tour where the guide is clearly speaking English to the two first ladies.
Who knows for sure what Abe's silence meant? One thing is clear: she's the internet's new favorite person.