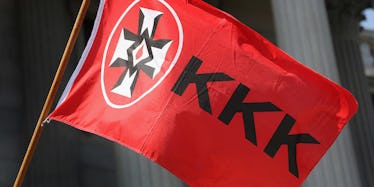 People Dressed Like The KKK Showed Up At A Republican Caucus Site
Getty Images
At a Republican caucus site in Nevada, people showed up wearing dresses and robes symbolic of the Ku Klux Klan.
They carried handmade signs supporting Donald Trump, who won the Nevada caucus vote for Republican presidential candidate.
Their signs said they were part of the New England Police Benevolent Association, which endorsed Trump, New York Daily News reports.
It was not confirmed who the people were and if they were actually Trump supporters, but they definitely sent several messages about the state of this election. Police were called to the caucus site, and the people in the KKK outfits left, according to KTNV.
Incidentally, Trump supporters in South Carolina were found more likely to believe whites are a superior race than supporters of other candidates, according to polls reported by The New York Times.
A national poll showed nearly 20 percent of Trump supporters did not agree with the freeing of slaves after the Civil War.
Citations: Long lines reported at Republican caucus sites in Nevada (KTNV), Donald Trump wins Nevada's messy GOP caucuses after contest was plagued by alleged voter fraud, intimidation and men in Ku Klux Klan garb (New York Daily News), Man confronts people dressed as KKK members at caucus site (KTNV)