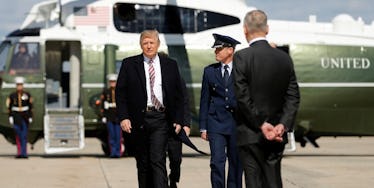 People Are Calling Out Trump For What He Wore During Aircraft Carrier Visit
REUTERS
President Donald Trump visited the USS Gerald Ford in Newport News, Virginia on Thursday and spoke to shipbuilders and sailors about his plans to increase defense spending and build up the US military.
The US already has the highest military budget in the world, spending roughly $600 billion per year, but Trump is planning on increasing it by roughly $54 billion.
He said,
We will give our military the tools you need to prevent war and, if required, to fight war and only do one thing: win.
The president was wearing an olive green military jacket and navy blue hat, both of which were apparently given to him as a gift to take home.
But, he decided to wear them then and there.
Trump's military outfit became a topic of discussion on social media.
Some were not too fond of the president's choice to wear this and used it as an opportunity to call out the fact Trump never served in the military and got five deferments during the Vietnam War — including one for bad feet.
Perhaps it's unfair and petty to criticize Trump for what he was wearing.
Then again, it's something female politicians are frequently subjected to (for sexist reasons).
Still, you might argue wearing the outfit was a way for Trump to show respect to the US service members he was addressing, and let them know he appreciated the gift.
At the same time, it's understandable if people find it insulting for him to play dress-up in military attire when he's never served and hasn't always shown reverence toward the military in the past.
During his presidential campaign, for example, Trump famously insulted Senator John McCain, a veteran of the Vietnam War, for being a POW. He also attacked a Gold Star family over the summer after they spoke in support of Hillary Clinton at the DNC.
Additionally, Trump angered a lot of people when he said "I always felt that I was in the military" because he attended a military school, which is hardly the same thing as actually serving.
Given all this, it's understandable why some might not appreciate Trump's attire on Thursday.
With that said, people will always find something to criticize presidents for (especially when it comes to how they interact with the military), and Trump wearing a military outfit is definitely not the most pressing issue the country is facing.
Citations: Trump touts plans to bolster military aboard aircraft carrier in Virginia (ABC News)