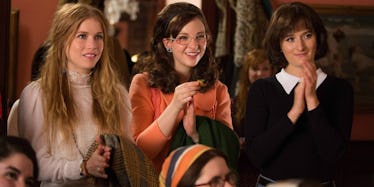 How Facebook Groups Are Mobilizing Women During Post-Election Frustration
Amazon Studios
The new Amazon series "Good Girls Revolt," written by Lynn Povich, follows the true story of six women (herself included) who worked at Newsweek in 1969 and their fight for equality in the workplace.
The show strays from facts in some places, but remains true at its core.
The women file an Equal Employment Opportunity (EEO) lawsuit against the company for refusing to allow women to become reporters.
Today, the Facebook group, Pantsuit Nation, is following in those same footsteps.
The invite-only group of over three million members was ecstatic on Tuesday before the election results came in.
Hundreds of women flooded the page with their own personal stories. It was a place for truth, for the political black sheep of their families to come together and encourage each other, as we were so sure history was being made.
Now, it's a place of grassroots movements and change makers who are trying to help establish certainty in this uncertain era of a Trump presidency.
As soon as election results began to favor Trump uplifting posts were made like "We may have lost the battle, but we won't lose the war."
There was a sense of strength, of power through numbers and of not letting hatred win.
Members were reminded Hillary won the popular vote, and the glass ceiling will eventually be shattered.
The group is now also a place of solace and mourning.
Members encourage one another, and remind each other to stay strong and fight the good fight. They build one another up at a time when so much has been brought down.
But what's interesting about this group isn't the beautiful diversity of its members, or the wisdom provided by older female voters. All of that is amazing, and wonderful and necessary right now.
What's interesting is that the group, in and of itself, is a catalyst for change.
My sophomore year of college I took my first upper-level anthropology course.
I was able to sit in on a discussion-based class with one of the most brilliant cultural anthropologists of our time, Azra Hromadžic.
Hromadžic frequently brought up the book she was working on,"Citizens of an Empty Nation: Youth and State-Making in Post-War Bosnia."
It was about youth in post-War Bosnia (her home country) and the interesting phenomenon of smoking in the bathroom.
What she found was that despite ethnic, cultural and religious divides, young women found affinity in bathroom stalls.
"With no adults present, the bathroom became a place of subversion, experimentation, risk and playfulness," she stated.
This space of illicit safety and the freedom to move between identity boundaries exists in the same way in "Good Girls Revolt."
The women in the series use the women's bathroom as a place of revolutionary thinking where they have the ability to do more than just research.
As the only office space not crowded by men, and the one women aren't expected to clean up after or make men coffee in, the bathroom becomes the pivotal location for true change on the show.
This, too, echoes today.
On a day when it seems hatred and bigotry have won, on a day when angry, white, working-class men laugh in our faces and celebrate the victory of their "champion," the bathroom revolution lives on.
Pantsuit Nation is growing -- posts are being made and localized groups are being formed.
One site admin wrote, "We can be most effective if we are organized as one," alluding to an even bigger movement in the coming days.
While so much of the country mourns with the uncertainty of what a Trump presidency will mean for them, their families and their friends, Pantsuit Nation continues to be a space of solitude and action.