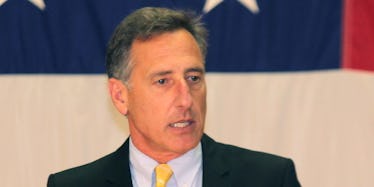 Meet The Governors Who Might Actually Do Something To End The Opioid Epidemic
People perceive politics as being all talk and no walk. But when it comes to the ongoing opioid epidemic, Governor Peter Shumlin of Vermont is dedicated to actually getting something done.
On Saturday, at the National Governors Association Winter Meeting in Washington, DC, the Health and Human Services Committee ran a session on the opioid crisis to discuss the increasing number of Americans becoming addicted to opiates like painkillers and heroin.
Several governors and speakers of the American Medical Association, Blue Cross Blue Shield of Massachusetts and Walgreen as well as Michael Botticelli from the president's Office of National Drug Control Policy gave short presentations on their work to slow the epidemic.
But then Shumlin got the mic and voiced his frustration. He addressed, regardless of how much they talk and attempt to make changes in Vermont, there still is a huge opioid problem in his state. Shumlin focused his anger at the Food and Drug Administration, which approves drugs, and the high rates of prescriptions for painkillers like oxycontin.
Shumlin urged the governors to act. He asked the Governors Association to put together a set list of rules on drug prescriptions. He said:
Do we have the courage, do we have the heart to do it?
All members of the committee then agreed to put together the prescription guidelines.
Shumlin told Elite Daily he's become so passionate about opioids from listening to Vermonters. People continually tell him about friends and family members who have become addicted and how their lives are affected by an increase in crime. Shumlin said:
It was changing so rapidly -- our quality of life, the number of innocent victims of these FDA-approved drugs -- I just started really looking into it. The more you hear, the more you know, the sadder it is, and the more irate you become.
The Republican presidential candidates keep referring to Mexico and South America when they talk about the opioid epidemic. In debates, they regularly say their solution to the addiction crisis is to build a wall on the southern border to keep drugs out.
But that's ignoring the major source of opiates: perfectly legal prescriptions. When Shumlin talks to addicts, he told Elite Daily, their addictions "almost always start with FDA-approved oxycontin and other painkillers." This is why he is putting the focus on prescription guidelines.
Governor Charlie Baker of Massachusetts, chair of the Health and Human Services Committee, told Elite Daily he believes all young people know about the epidemic from actually knowing people who are addicted. He said if young people like us are prescribed something by a doctor, we should be asking if it can be addictive.
Baker added:
You're not superhuman. It could be you. Don't assume that just because you're young you're bulletproof. This is the sort of problem that affects every geography, every culture, every community, every walk of life. There are no exceptions.
Shumlin echoed these concerns for our generation, saying:
One of the most frightening things in Vermont is that we're seeing folks starting to use heroin as a recreational drug at very young ages. All I can say is, this stuff is poison. It will destroy your life. Once you get hooked, most addicts will tell you that it's a lifetime of recovery. This isn't a few weeks, a few months. You will battle the desire for opiates for the rest of your life. So you don't want to play with this stuff.
But Shumlin is optimistic the governors can stunt the epidemic through the collaborative effort of Democrats and Republicans to regulate opiate prescriptions. With that, Shumlin believes, we could see fewer addictions and a hopeful slowing to the crisis.