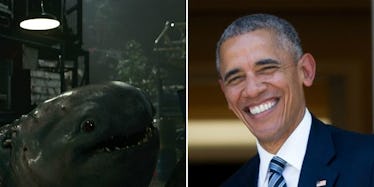 Obama's Final Movie Request As President Leaves Us With A Lot Of Questions
REX/Shutterstock
President Barack Obama is well known for his love of movies and, as an intelligent person, we can usually trust in his opinion.
He's a man of great taste! In 2015, he revealed that his favorite book was "Fates and Furies" by Lauren Groff, which is also my favorite book of 2015.
He also enjoyed the movie "The Martian" that year, which I would have enjoyed if it didn't give me an anxiety attack in almost every other scene.
So when I heard, before he handed over the keys of the White House to President Donald Trump, that he requested a screener of "La La Land" I was like, "Oh, yeah -- that makes sense!"
But then I also heard, along with the Oscar nominated movie, the second final movie he requested was "Monster Trucks."
In case you don't know, "Monster Trucks" is about a teen who builds a monster truck out of spare parts, but then an accident occurs at a nearby oil-drilling site, creating a monster who lives in, and operates, the truck.
Naturally, we have some questions.
The movie's inciting incident is an oil spill, does this have to do with Standing Rock and the Dakota Access Pipeline?
Obama blocked the Dakota Access Pipeline, but one of Trump's first acts as president was to resurrect the Keystone XL pipeline and expedite the Dakota pipeline.
Was Obama trying to subtly throw some shade here? Like:
You know, Michelle. Maybe if we just leave this child's movie in the DVD player, Trump will have a change of heart and think it's his own idea.
Is this a hint at self-driving cars?
Obama has spoken a few times about self-driving cars. He realizes that the technology is here, but that federal regulations have to make sure they work for everyone.
Normally, with new technology, more jobs are created. However, four million Americans earn a living driving and we would lose those jobs.
Obama wants to ensure that it makes sense for every American -- perhaps he was trying to find answers in "Monster Trucks?"
Was this a Joe Biden recommendation?
This seems like it would be a Joe Biden recommendation.
Joe Biden reminds me of my own dad -- they both don't drink, they both love ice cream and it seems like Biden would also have an affinity for dumb movies about cars.
Have you been a fan of the star, Lucas Till, since he appeared in Taylor Swift's "You Belong With Me?"
Or more for his work in "Hannah Montana: The Movie?"
Anyway, if you could get back to me about these pressing issues, Obama, I would really appreciate it.
I'm sure the government can tell you where to find me.
Citations: President Obama's Secret White House Screenings Revealed (Hollywood Reporter)