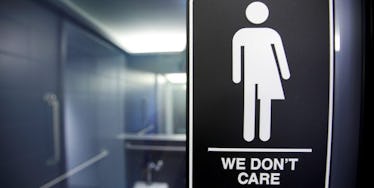 NC's Controversial Bathroom Bill Is Being Repealed, But Don't Celebrate Yet
REUTERS
A controversial law that prohibits transgender people from using the bathroom of their choice will be repealed in North Carolina.
But don't break out the champagne just yet -- because the removal of the "bathroom bill," called HB2, has been dubbed a "fake repeal."
LGBT and human rights groups have vehemently criticized the terms of the new deal, with the Human Rights Campaign warning that lawmakers supporting the repeal are "no ally of LGBTQ people."
What's wrong with the new law?
State lawmakers were forced to change tactics by the immense backlash over HB2, which bans transgender people from using whatever bathroom they identify with in public areas.
Now, Republican lawmakers and the Democratic governor have agreed to repeal HB2.
But they will retain a key part of the law -- leaving regulation of public bathrooms solely in the hands of the state.
This means cities within the state -- such as Charlotte, which attempted to pass its own law blocking HB2 -- can't pass non-discrimination ordinances until December 2020.
North Carolina lawmakers are pleased, but many people are not happy about this.
According to CNN, North Carolina's governor Roy Cooper said,
l support the House Bill 2 repeal compromise that will be introduced tomorrow. It's not a perfect deal, but it repeals House Bill 2 and begins to repair our reputation.
In a joint statement, Senate Leader Phil Berger and House Speaker Tim Moore said they were "pleased" with the proposal.
But online commentators have reacted to the decision with fury, claiming it does not help to protect transgender people.
Since it was passed last year, HB2 has caused immeasurable damage to the state's reputation and economy.
The NCAA has moved several championship events as a direct result of the law and the NBA relocated the All-Star Game from Charlotte to New Orleans.
Five states -- New York, Minnesota, Washington, Vermont and Connecticut -- have banned public employees from going to NC.
All in all, HB2 has cost the state millions of dollars.
Citations: North Carolina HB2 repeal bill clears first hurdle in Senate Rules Committee (CNN)