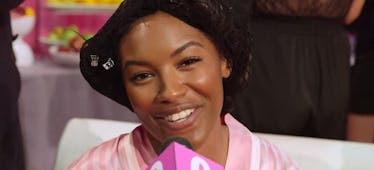 Here's Who Our Next President Should Be, According To Victoria's Secret Models (Video)
Revealing which candidate has your vote in the presidential election is risky business.
Everyone has an opinion, and most of the time, everyone thinks his or her opinion is right.
Yeah, it's hard letting your friends know who you want in office, but what about telling millions of strangers?
Cosmopolitan asked eight Victoria's Secret models to divulge their presidential pick for the 2016 election right before they walked down the runway at this year's "Victoria's Secret Fashion Show."
The models either weren't prepared, or they just didn't want to answer such a personal question. Either way, their responses are kind of hilarious.
Model Megan Puleri thinks Amy Schumer would make a great choice; whereas, Sharam Diniz says she's sticking "with Obama. Sorry."
Check out all the models' responses in the video above.
Citations: 8 Victoria's Secret Models Pick the Next President of the United States (Cosmopolitan)