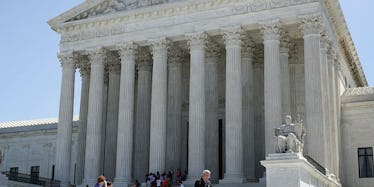 The Next LGBTQ+ Rights Fight Is All About Cake In The Supreme Court
Chip Somodevilla/Getty Images
The Supreme Court has agreed to hear the case of a Colorado baker who refused to bake a wedding cake for a gay couple, David Mullins and Charlie Craig, The Washington Post reports.
Jack Phillips, owner of Masterpiece Cakeshop in Lakewood, Colorado, lost in lower courts when it was ruled he'd violated the state's public accommodations law.
The law prohibits refusing service to customers based on such things as race, sex, marital status, or sexual orientation.
Phillips justified refusing to bake the cake on the basis of his religious beliefs.
The Supreme Court has agreed to hear Phillips' case and will decide whether he unlawfully discriminated against Mullins and Craig.
The American Civil Liberties Union (ACLU) and the ACLU Colorado are representing Mullions and Craig in the case.
James Esseks, director of the ACLU's LGBT Project, said,
The law is squarely on David and Charlie's side because when businesses are open to the public, they're supposed to be open to everyone. While the right to one's religious beliefs is fundamental, a license to discriminate is not. Same-sex couples like David and Charlie deserve to be treated with the same dignity and respect as anyone else, and we're ready to take that fight all the way to the Supreme Court.
Speaking on the case, Mullins said it "has always been about more than a cake," adding that "businesses should not be allowed to violate the law and discriminate against us because of who we are and who we love."
Mullins said he's "disappointed that the courts continue debating the simple question of whether LGBT people deserve to be treated like everyone else," but hopes the case "helps ensure that no one has to experience being turned away simply because of who they are."
This isn't about freedom of religion, it's about the freedom to discriminate.
Phillips has argued forcing him to bake a cake for a same-sex couple would violate his constitutional rights to freedom of speech and the free exercise of religion.
He's claimed decorating cakes is an art form, he honors God with his talents, and he'd anger God if he created cakes for same-sex couples.
The Colorado Court of Appeals did not agree, and ruled Phillips remains free to "continue espousing [his] religious beliefs," but he's prohibited from "picking and choosing customers based on their sexual orientation" if he wants his shop to remain open.