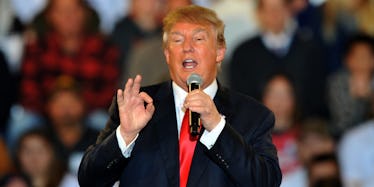 Let's Not Forget The Time 'Sesame Street' Made A Donald Trump Muppet
Getty Images
Back in 2005, seminal children's show "Sesame Street" featured a new muppet: Donald Grump.
Donald Grump was a Grouch with "the most trash of any Grouch in the world."
He had an exaggerated New York accent and spent his time on "Sesame Street" firing Muppets and mocking them with more than one "nyah nyah nyah nyah nyaaaah."
According to the Muppets, Donald Grump was "loaded with trash!"
So yeah, more than a decade ago, "Sesame Street" made fun of Donald Trump.
The episode featured a parody of "The Apprentice," with Elmo competing to assist Donald Grump. Elmo won the competition, only to have Donald Grump tell him,
I can't have a good helper! I've got my reputation to think of!
Then, Grump fired Elmo.
The episode also started the Grump segment with a song. In one line of the song, Donald Grump sang,
Who's name equals trash to you and to me?
The Muppets responded,
Grump!
Sounds about right.
Citations: Donald Grump (Muppet Wiki)