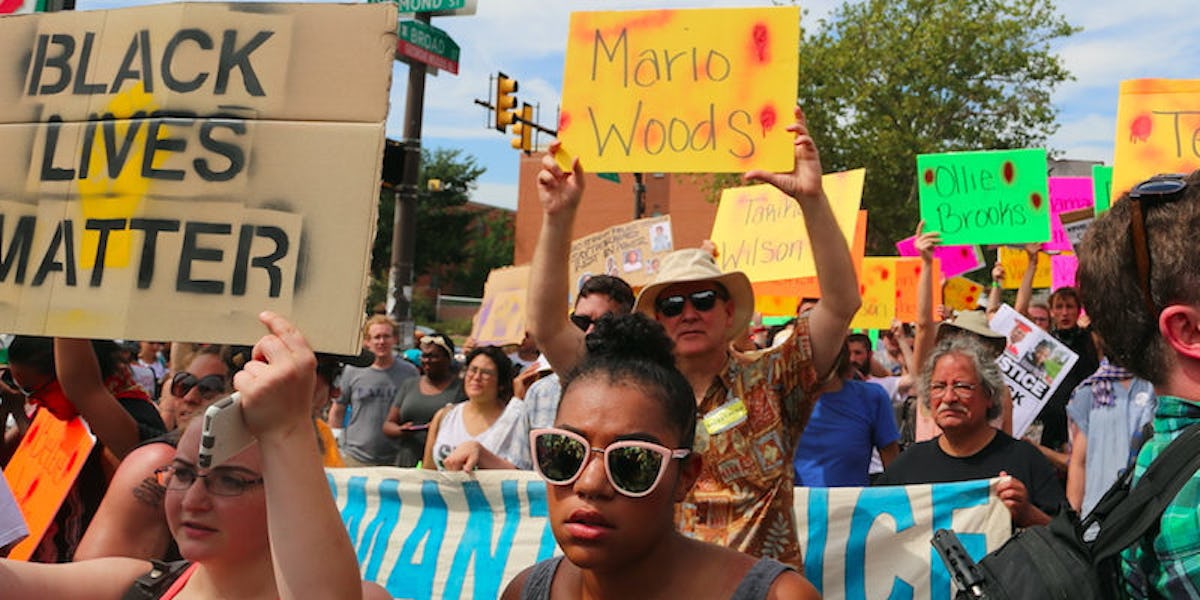 Most Young White People Now Support Black Lives Matter, But There's A Catch
Shutterstock
A majority of young white people are now supportive of Black Lives Matter and its efforts to address police brutality, according to a new GenForward poll.
The GenForward survey was conducted by the Black Youth Project at the University of Chicago in conjunction with the Associated Press-NORC Center for Public Affairs Research.
The poll showed 51 percent of white people between 18 and 30 support the Black Lives Matter movement, while 42 percent said they do not.
Correspondingly, 85 percent of young African-Americans said they support the movement, along with 67 percent of young Asian people and 62 percent of young Hispanic people.
But, in spite of the fact that a majority of young white adults said they now support Black Lives Matter, a majority (66 percent) also said they believe the group's rhetoric encourages violence against police.
Comparatively, only 43 percent of Asian-Americans, 42 percent of Hispanics and 19 percent of African Americans feel the same way.
Black Lives Matter began back in 2012, and it's worth noting that the number of police killed has declined significantly in recent years. In fact, 2015 was one of the safest years ever for police.
This is something President Obama pointed out after Republican presidential nominee Donald Trump attempted to argue police were less safe under Obama during his speech at the Republican National Convention.
It would also be very counterintuitive for a movement against police brutality to condone violence against police, or any group for that matter.
As DeRay Mckesson, one of the leading voices of Black Lives Matter, stated back in July,
The movement began as a call to end violence. That call remains.
In other words, there's no substantial evidence to support the notion the Black Lives Matter movement incites violence against police.
But there is a great deal of evidence America's criminal justice system disproportionately impacts minorities, which is precisely what Black Lives Matter seeks to address.
Not to mention, US police have already killed 742 people this year, according to The Counted. This includes 183 black people, who make up roughly 13 percent of the population.
Concurrently, 81 police have been killed in the line of duty so far this year, according to Officer Down Memorial Page, including 38 from gunfire.
In short, America clearly still has a lot of work to do in a number of respects, but particularly when it comes to police-community relations.
Citations: Poll: Support for Black Lives Matter grows among white youth (AP)