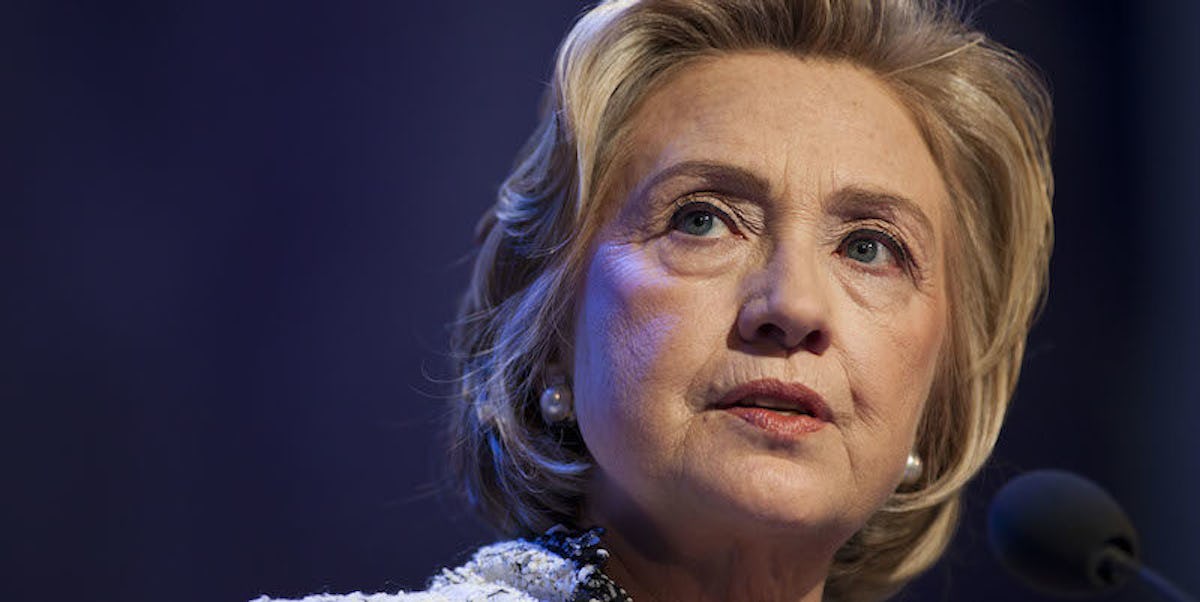 Why Millennials Should Pay More Attention To Clinton's Email Fiasco
Getty Images
At this point, you're probably thinking, what email fiasco?
Commendably, the news of Hillary Clinton's use of a private email system during her four years at the State Department, as originally reported in The New York Times, was tirelessly covered by mainstream, liberal and conservative media outlets alike.
Nevertheless, young Americans ages 18 to 29 were least likely to follow the email controversy in its first and most intense week of news coverage.
According to a Pew Research Center survey, only 4 percent of Millennials lent their attention to the scandal.
This is a problem, especially when it comes to liberal Millennials who already approve of Clinton as a presidential candidate ahead of 2016 and, therefore, are likely to not be skeptical of the former Secretary of State and First Lady.
Unsurprisingly, this coalition of young Americans behind a Hillary Clinton presidency is quite strong.
A Fusion poll released in February of this year determined that, among Americans ages 18 to 34, 55 percent would vote for Clinton in the 2016 election.
While early passion for presidential candidates among Millennials certainly bodes well for the political involvement of the generation, it doesn't suit us to allow passion to cloud logic.
We young Americans are a pinnacle force in the next election, not only because so many of us carry votes, but also because these votes will dictate the shape the country takes as our generation matures.
The worst thing for Millennials to do is resign ourselves to a candidate without paying attention to his or her faults.
In Clinton's case, her use of a private email system -- which violated a 2009 regulation in addition to going against the transparency guideline set by the Obama administration -- exposes her neglect of authority even as a high government official.
It also paints her as a foe of transparency.
At the least, Hillary's above-the-law behavior is troubling.
Millennials, especially the young liberals already resigned to supporting Clinton, need to take a hard look at the likely candidate and ensure that no other contender in the field, Democratic or Republican, offers a more appealing set of policies and ideals.
The same goes, of course, for conservative Millennials who have already decided on their Republican pick for the White House.
Of course, the number of decided conservatives is likely smaller than those liberals who have decided on Clinton.
Whereas Democrats have lamented that there exists "no one else" ready to step up within their party save Hillary, the Republican field is so crowded that it's cramped.
You might remember the Bush administration private email scandal that resulted in a congressional probe back in 2007.
Specifically, top White House officials were scrutinized for using Republican National Committee email accounts, instead of official government ones.
"At the end of the day, it looks like they were trying to avoid the records act ... by operating official business off the official systems," said John Podesta, who is ironically rumored to have a senior role in Clinton's campaign, at the time.
Such practice created the same atmosphere of secrecy around the Bush White House, as Clinton's current controversy is prompting around her nascent presidential campaign.
Just as many Republicans likely questioned their trust in George W. Bush in 2007, and Democrats should be reevaluating their faith in Clinton as a clear and honest leader ahead of 2016.
However, according to a CNN/ORC poll released last week, Millennials are the most likely age group to trust Hillary Clinton amid the email controversy.
A strong majority of 61 percent of 18- to 34-year-olds agree that the former Secretary of State can be described as "honest and trustworthy."
Perhaps, it is time for those Millennials to allow themselves to question that trust.
It would be an utter tragedy for enthusiasm to overtake rationale ahead of a presidential election that will have such a substantial effect on our adulthood.