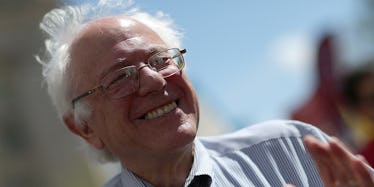 Last Night, Bernie Sanders Literally Made History
Getty Images
On Tuesday night, Senator Bernie Sanders pulled off a huge upset and beat Hillary Clinton in the Michigan primary 50 percent to 48 percent.
This was not supposed to happen whatsoever, but it did, and it left pollsters and pundits completely stunned.
As statistician Nate Silver put it several hours before the final results were in,
I said earlier today that I had an intuition Sanders could beat his polling in Michigan tonight, but I didn't expect things to be quite so close. If Sanders winds up winning in Michigan, in fact, it will count as among the greatest polling errors in primary history. Clinton led by 21.3 percentage points in our final Michigan polling average. Previously, the candidate with the largest lead to lose a state in our database of well-polled primaries and caucuses was Walter Mondale, who led in New Hampshire by 17.1 percentage points but lost to Gary Hart in 1984.
Simply put, this was one of the biggest upsets in primary history.
Moreover, in spite of the fact Hillary Clinton won the Mississippi primary by a landslide on Tuesday, this victory gives Sanders significant momentum moving forward.
This result also suggests Sanders might do better with minority voters than some previously believed.
With that said, Clinton continues to have a lead over Sanders overall, but there's still plenty of time in this race.
This just goes to show we shouldn't necessarily trust the polls when it comes to ultimate election results.
Meanwhile, Donald Trump won in Mississippi, Michigan and Hawaii, continuing his dominance of the GOP field, while Ted Cruz won in Idaho.