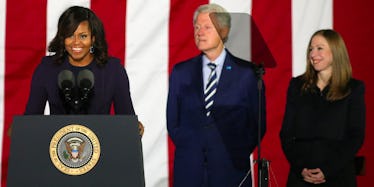 Michelle Obama's Heartfelt Thank You To America Is The Obamas' First Goodbye
Reuters
Michelle Obama spoke on Monday evening, the night before the presidential election that will decide her husband's successor.
It was a chilly evening at the Independence Mall in Philadelphia, the very space where this country was born, during a big rally for Hillary Clinton.
It's hard to imagine what America's founders would think seeing a successful, highly educated black woman hailing from the White House she has occupied for eight years speaking in this space on behalf of a woman running for president.
But this moment represented the progress, the hope and the future that this country was built on when they declared we are all created equal.
Obama noted several times that this may be her last opportunity to address a public crowd as the first lady. When she introduced the next speaker -- Barack -- she acknowledged that it might be the last time she'd get to introduce her husband as the president.
It was bittersweet (and the crowd sighed when she made these comments), but as always, Obama was graceful and forward-thinking as she spoke.
Obama appeared to begin a farewell tour in this speech. She said,
Let me just take a moment to thank you, to thank the people of this country for giving our family the extraordinary honor of serving as your first family.
She went on to thank the American people for their love, prayers and for "welcoming us into your communities with open hearts, for giving us a chance -- whether you agreed with our politics, or not."
Obama said that the American people "inspire" the Obamas with our "courage" and "decency." She said,
Every day we have tried to make you proud and live up to the standard of citizenship that you set. Because we know that our words and actions are a reflection to the world of who we are as a nation. And more importantly, our actions are a reflection of what we hope our children will emulate.
Although she has continued to not mention Donald Trump by name, she made a subtle good case against him there by noting that the first family is supposed to be a sort of representation and role model for the country.
On the ground where American democracy was established, Obama then spoke about what a vote represents. With your vote, she said, you can declare that "this country has always been great, that it is the greatest nation on earth."
A country where a girl like me from the south side of Chicago, whose great-great-grandfather was a slave can go to some of the finest universities on earth. A country where the biracial son of a single mother from Hawaii and the son of a single mother from Hope, Arkansas, can both make it to the White House. A country where a passionate, outspoken young woman, determined to do all the good she can, can go on to break the highest, hardest glass ceiling and become our president. That is the power you have and the history you can make tomorrow.
The election is on November 8. The Obamas have fewer than 100 days left in the White House. Mixed emotions abound.
Elite Daily and 50 other media organizations partnered with Rock The Vote to register 100,000 women to vote. You can register right here (and men can use it too) :