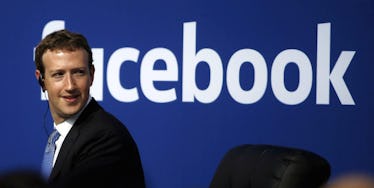 Mark Zuckerberg May Run For President And Everyone Thinks These Clues Prove It
REUTERS
Now that Donald Trump has won a presidential election (if not by popular vote), it seems like just about any idiot can become president of the United States.
But some people believe a smart person is considering a run for president — namely, Mark Zuckerberg, founder of Facebook.
There are a few pretty decent clues that are leading people to believe that Zuckerberg is considering a run for president — or at least some sort of government work.
The biggest clue is that this past year, Zuckerberg fought to make sure that he could work in the government and still retain his power in the Facebook company, Wired pointed out.
The company had a restructuring of its stock in 2016, which made sure Zuckerberg would still be the majority owner of Facebook, should they create more shares of the stock.
But one of the updates to the stock is if he owns more than 30 percent of Facebook shares, he can serve in government.
If he owns less than that, he needs board approval to serve. But if he doesn't get board approval, he can still serve as long as the government position is only a two-year limit.
So yeah, for real, Zuckerberg made sure he could serve in a government office.
The people are conflicted over this idea.
Zuckerberg is currently 32, which is three years too young to run for president, but he'll be old enough by 2020.
It's really not that crazy that Zuckerberg would try to do something explicitly political.
He has been involved in activism before, including his massive amount of charity work.
As we saw with Trump (and Carly Fiorina), it's not totally unbelievable that a "businessperson" would run for political office.
The only glaring issue, really, is that Facebook is a terrifying company that has all of our information, photos and identification, controls the news and helped promote the fake news that made Trump get elected.
But, you know, besides all that...
Citations: Mark Zuckerberg Is Sure Acting Like Someone Who Might Run for President (Wired), Mark Zuckerberg and Priscilla Chan to donate 99 percent of their Facebook fortune (The Verge)