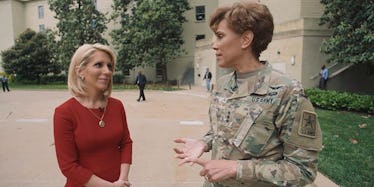 Lessons From The "Badass Women Of Washington" Will Inspire You — EXCLUSIVE
Courtesy of CNN
If there's just one important lesson about success young women could learn from Washington D.C., it might actually be about defeat.
Dana Bash, CNN's chief political correspondent, hinted as much when she shared a piece of advice from veteran Senator Dianne Feinstein.
Bash tells Elite Daily,
'Be strong, get over, take defeat, and move on.' To me that is such a great lesson because that's life. I mean, we don't just go from one positive experience to the next. You know, life is about how do you deal with setbacks as much as how you deal with success.
Bash is collecting advice in new conversations with a group of powerful women in politics.
The award-winning journalist is hosting CNN's Badass Women Of Washington, a seven-part digital series that was released this week and explores the lives and lessons from some of D.C.'s most impressive female figures.
When asked what gems young women could take away from the series, Bash pointed to her profile of Sen. Feinstein with good reason.
Bash says,
[Sen. Feinstein] was telling me about women of her generation who did try... and they were defeated and never went back. And her lesson was, 'Don't do that.'
But the CNN anchor's conversations with other notable women seem to have as much promise for insight.
There's the conversation with Army Surgeon General Nadja West who, despite having so many accomplishments to take confidence from, revealed she actually had confidence issues.
There's the conversation with the president's cabinet member, Transportation Secretary Elaine Chao, who talks about the regret of not having children on her way to achieving success.
Ultimately, the rich perspective given by each woman seems to come with the territory of being someone who fits the profile of a "badass woman."
Bash defines a "badass woman" as,
Somebody who is not afraid to kick down a door, not afraid to stand up and ask a question -- if it's a reporter -- stand up for a policy, or a political stance that they believe in -- if they're in politics or public service -- and to not be deterred by the fact that, particularly in Washington, it's still a man's world.
In addition to Sen. Feinstein, Secretary Chao and Lt. Gen. West, Bash interviewed Sen. Catherine Cortez Masto, Sen. Jeanne Shaheen, Rep. Jaime Herrera Beutler, and Republican National Committee Chairwoman Ronna Romney McDaniel.
Bash says inspiration for the series came from a conversation with colleagues after November's presidential election.
The topic of women's place in Washington, particularly in lieu of the defeat of Hillary Clinton, was discussed.
People were really uncertain, and unsure, and there was a lot of anxiety, and it was a combination of knowing that there are cool women whose stories should be told. [It was also] me personally wanting to have a project that was inspirational at the time of anxiety, to just do something that's not controversial, and tell these women's stories in a bipartisan way.
Now, the veteran reporter has a series on her hands which she says not only promises to teach younger women a few things but also taught an experienced professional like her something.
Bash says,
One of them is what I mentioned about Nadja West, to just take a breath and take time to talk to younger women who are coming up, who might not be so sure, and even if it's just a five-minute conversation it could have a huge impact.
Regardless of the different experiences that the women had, however, Bash pointed at one similarity.
The men still rule the town, and that fact will always make things harder.
Bash says,
Sometimes it's not that easy, even for people who are representing the biggest states in the country and who have 'senator' before their name and who have all of the benefits that go along with it. It's still not easy.
That fact is sure to make for both interesting and important stories from Washington D.C.'s badasses.