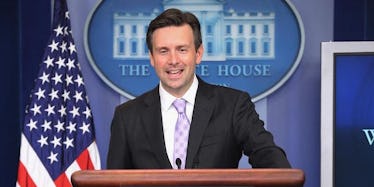 White House Press Sec Josh Earnest Breaks Down The SCOTUS Situation
Getty Images
On Wednesday, White House Press Secretary Josh Earnest joined Elite Daily for a Facebook Q&A regarding where the Obama administration stands on the Supreme Court nomination process.
Following the passing of Justice Antonin Scalia, President Obama is constitutionally required to nominate a successor. Republicans in the Senate, who must advise and consent the president on this matter (approve his nominee), contend it's in the interests of the nation for this process to be delayed until after the 2016 election.
Supreme Court justices are appointed for life and their decisions have the capacity to impact the course of the country in massive ways. What they say sets precedents that ripple across generations.
Accordingly, this is an extremely important matter, but the timing has definitely incited controversy.
Earnest, who is essentially the public face of the Obama administration in his role of press secretary, sought to bring clarity to the process and the debate surrounding it during Wednesday's Q&A.
Earnest made it clear why this process is so important to the future of the country. He also contended Republicans have no right to obstruct this process.
He noted every Supreme Court nominee since 1875 has received a hearing and/or vote.
Earnest argued Republicans have a constitutional responsibility to consider the president's SCOTUS nominee.
He said the president is looking to nominate someone with strong credentials who's committed to interpreting the law absent a political agenda.
Earnest said the president is looking at a wide array of potential nominees. He didn't specify when the president will announce his nomination but did argue there's plenty of time for the president to do so.
He also offered some insight on when we might see a Millennial Supreme Court justice.
In conclusion, Earnest urged the public to continue following this issue closely.