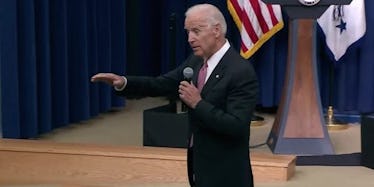 Biden's Fighting Words In Final Speech On Sexual Assault Will Make You Cry
YouTube
Vice President Joe Biden gave a powerful and emotional speech on sexual assault at the It's On Us Summit at the White House on Thursday.
This was the final time he spoke on this issue as vice president.
Biden, who has been extremely vocal about campus sexual assault throughout his tenure, said violence against women is "the civil rights issue of our time. It's the human rights issue of our time."
When it comes to sexual assault, he said, "Silence is complicity."
The president and vice president launched It's On Us in September of 2014. As the White House describes it,
It's On Us is a movement aimed at fundamentally shifting the culture around sexual assault. It's a rallying cry, inviting everyone to step up and realize that the solution begins with all of us. The campaign works to educate, engage, and empower students and communities across the country to do something, big or small, to end sexual assault.
President Obama and Biden's efforts to spread awareness on this issue came to a head at the It's On Us Summit where -- in addition to the vice president -- student leaders, federal colleagues, community organizers and business representatives, among others, came together to discuss how they will continue to build on the progress made by this administration.
As he wrapped the speech up, Biden said,
Here's the deal guys. I'm no longer going to be vice president, but I'm going to be associated with several major universities and have a significant staff... I'm going to be setting up a foundation that's going to devote the rest of my life to dealing with violence against women... We have to continue to organize... I'm counting on you... Stay engaged...
And as he walked out of the room, the vice president shouted,
Hold your universities responsible. They have a moral obligation to step up!
Biden might be 74 years old, and he might've already been in public service for decades, but he's clearly more than ready to continue fighting for what is right.
You can watch the entire It's On Us Summit in the video below.