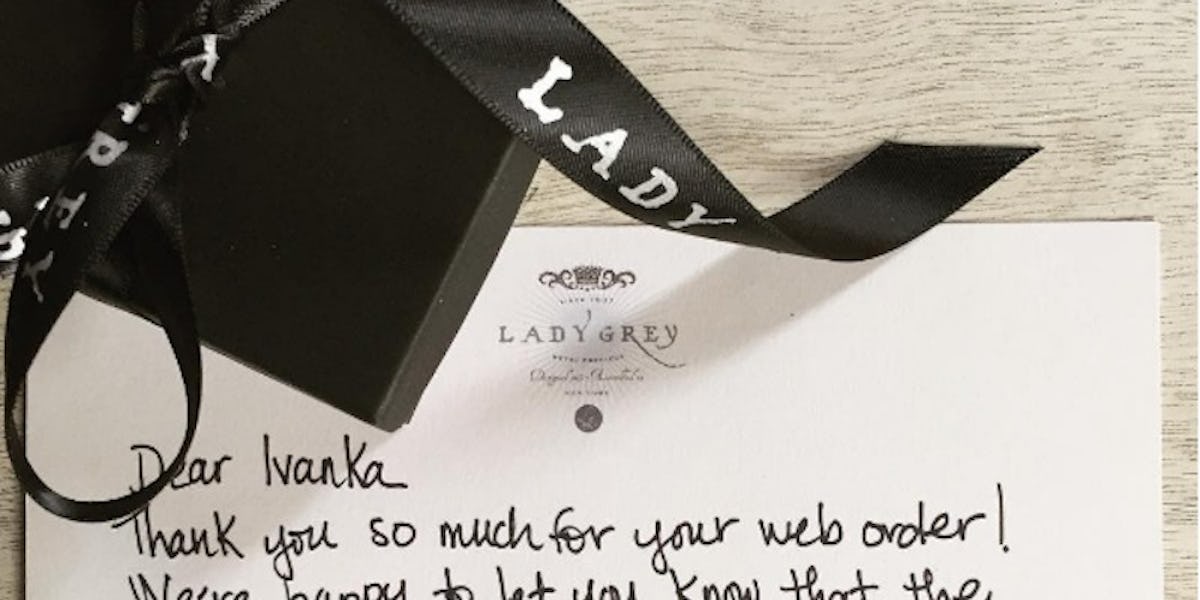 Jewelry Company Rejects Ivanka Trump's Money With Bold, Personal Note
Instagram
Lady Grey, a New York jewelry line, was excited to get an order from a high-profile style icon.
Unfortunately, however, that high-profile style icon was Donald Trump's daughter Ivanka. The makers behind Lady Grey are pretty viciously opposed to her dad's presidential campaign and the hate he has been spewing.
Rather than reject her order, the jewelry line accepted it — but gave the money she paid them to causes the Donald's platform opposes.
They wrote Ivanka a handwritten letter, which they posted on Instagram:
In the letter, designers Jill Martinelli and Sabine Le Guyader thank Trump for her web order. Then they write,
We're happy to let you know that the proceeds of your sale have been generously donated to the America Immigration Council, the Everytown for Gun Safety Organization, and the Hillary Clinton Campaign.
So Ivanka's purchase inadvertently supported immigration, gun control and her father's opponent, Hillary Clinton.
Martinelli and Le Guyader told Refinery29 that they were "flattered" by her order. But, they said,
When we received her order, we instantly felt compelled to take the money and donate it to a few organizations that were more aligned with our ideals...We strongly feel that everyone and anyone can make a difference through actively supporting the causes that they believe in, no matter how big or small.
Trump herself hasn't been known to align with her father's bigoted, conservative campaign, although she has been involved in his presidential run. Trump is friends with Chelsea Clinton, has donated to Hillary Clinton's previous campaigns and is registered Independent.
At the Republican National Convention, Trump gave an oddly progressive speech, supporting policies the Republican party typically does not, including affordable childcare and equal pay for women.
But even if Trump doesn't support her father's policies personally, she is indirectly supporting them by helping his campaign.
Lady Grey's response to Trump was strong and pretty badass.
Although it's unclear exactly how much of an impact their donation will have. Ivanka ordered the helix ear cuff, which costs $84. Optimistically assuming they gave that full price to the three causes (rather than just the profit), that would be $28 to each, which isn't gigantic.
But it sends a message, which could encourage other people to stand up and make similar moves.
And after all, $27 contributions worked out alright for Bernie Sanders.
Citations: Refinery29, Huffington Post