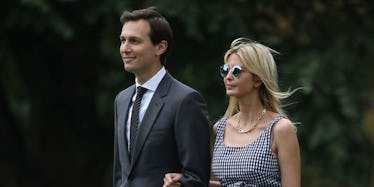 Ivanka Trump And Jared's Relationship Is Private, Which Could Be A Good Sign
Mark Wilson/Getty Images
While this White House couple appears to be fairly happy, were you to merely pull assumptions by looking at Ivanka Trump's social media accounts, you might get a very different picture of her relationship with husband Jared Kushner.
After all, very few of her posts include photos with Jared in them.
Is this a bad thing? Turns out, maybe not.
I spoke with Alessandra Conti, Celebrity Matchmaker for Matchmaker in the City, and she had lots to say on the duo.
We all know that Instagram isn't real life. And as Conti points out, it's worth keeping in mind that we might get more cues by looking at candid photos of someone than the portrayal they're curating online.
She says,
With couples in the public eye, candid paparazzi photos speak volumes more than crafted Instagram posts coming from either of their camps. In most of their candid photos, [Jared and Ivanka] seem to be in sync with each other: Jared still has the dominant position of guiding her, but she is engaged and purposeful.
While the majority of Ivanka's social media feeds don't include Jared in the photos, there are some adorable gems:
It's also not that uncommon for celebs' feeds to be devoid of their significant other, says Conti.
I work with a lot of high profile celebrities and public figures, and it is always a distinct choice for them to have control of how much of their personal lives is open to the public. While some reality stars, influencers, and actors who are famous for being themselves are more open with sharing personal moments via social media, typically the more business minded the public figure is, the less they share. All of Ivanka's Instagram photos are calculated and deliberate; this is not the most recent Bachelor cast-off who is promoting Sugar Bear hair; this is a business woman who was raised knowing that she needed to maintain a public image and a private image.
So for any of you wondering whether your relationship status is still relevant on Facebook? Use at your own risk.
But as with most things, this couple's bond is bigger than a post.