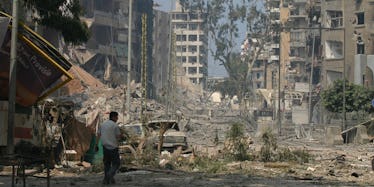 ISIS Says It's Responsible For The Deadly Suicide Bombings In Beirut
Getty Images
On Thursday, dual suicide bombings in southern Beirut killed dozens of people and injured around 200 others, The New York Times reports.
ISIS claimed responsibility for the attack.
#ISIS says it detonated motorbike bomb in Beirut, killing >40, wounding 200. #Beirutbombing #Lebanon — Jon Williams (@WilliamsJon) November 12, 2015
While this is a terribly tragic incident, it's not surprising ISIS is claiming responsibility.
The bombings occurred in a neighborhood controlled by Hezbollah, which is currently fighting against ISIS in Syria.
At the same time, some are skeptical about ISIS's involvement, given the number of conflicting reports that arose after a Russian plane crashed in Egypt at the end of October.
ISIS is claiming the Beirut suicide bombings. But, since they claim everything, it's hard to know if they really are behind it, as of now. — Micah Grimes (@MicahGrimes) November 12, 2015
This all goes to show how complicated the fight against ISIS is as it's the collective enemy of multiple countries and other actors, like Hezbollah, who are also traditional enemies.
The American government is not on good terms with Russia and considers Hezbollah to be a terrorist organization, yet all three can count ISIS as a foe.
More evidence today that the US, Russia, & Hezbollah are all awkwardly on the same side of the fight against ISIS/AQ-style terrorism — Joshua Hersh (@joshuahersh) November 12, 2015.
Indeed, there are many players involved in the increasingly convoluted war in Syria and, unfortunately, it seems civilians are paying the heaviest price for it.
Important to note that while #Beirut attack hit area where Hezbollah popular, these attacks overwhelming kill civilians. #Beirutbombing — Sara Hussein (@sarahussein) November 12, 2015
In addition to allegedly bombing Beirut on Thursday, ISIS released a video threatening to conduct imminent attacks in Russia.
Meanwhile, the US supported Kurdish forces as they sought to retake the Iraqi town of Sinjar from ISIS, TIME reports.
This is a very messy war, and it doesn't seem as though it will end any time soon.
Citations: Deadly Blasts Hit Crowded Neighborhood in Southern Beirut (NYT), Foreign Terrorist Organizations (State Dept), Syrian Regime Backed by Russia Iran and Hezbollah Expands Ground Offensive to Aleppo (WSJ), Kurds Backed By the US Aim to Split ISIS Territory With Offensive (Time)