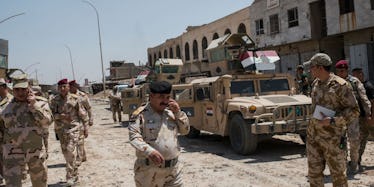 ISIS Is Apparently In Its Last Days In Iraq, If You Need Some Good News
Martyn Aim/Getty Images
ISIS is reportedly in its final days in Iraq, so we finally have some good news for a change.
On Thursday, Iraqi government troops seized the 850-year-old Grand al-Nuri Mosque in Mosul, which is the mosque where the terrorist group declared a caliphate exactly three years ago, Al Jazeera reports.
ISIS blew up the mosque a week ago as Iraqi forces closed in.
But, in spite of the fact the mosque is essentially rubble at this point, this is a major symbolic victory for Iraqi forces.
Al Jazeera's Bernard Smith, who's reporting on the ground from Erbil, explained it's been extremely difficult for Iraqi forces to gain any ground in Mosul.
Smith said Iraqi forces were only about 50 meters away from the mosque last week when ISIS blew it up. He added, "even though Iraqi forces say they've got control of the area around the mosque, they've not gone into what's left of the compound because they believe like everywhere else they've captured in the Old City, it's been booby-trapped."
This just goes to show how tough it can be to make progress when fighting in a dense, urban location, which is precisely why Iraqi forces are hailing this as a major victory.
Authorities in Iraq seem to be using this as an opportunity to declare ISIS as defeated in Iraq, although that might be somewhat premature.
An Iraqi military spokesman, Brigadier General Yahya Rasool, told state TV, "[ISIS'] fictitious state has fallen," Reuters reports.
On Thursday, Iraqi Prime Minister Haider al-Abadi took to Twitter to more or less declare an end to ISIS in his country.
He said,
We will continue to fight [ISIS] until every last one of them is killed or brought to justice. We are seeing the end of the fake [ISIS] state, the liberation of Mosul proves that. We will not relent, our brave forces will bring victory.
Mosul has been absolutely decimated by the fighting between ISIS and Iraqi forces.
It's estimated thousands of civilians in Mosul have died as a consequence of the fighting, and roughly 900,000 have been forced to flee, according to Reuters.
So, even though ISIS' time might be short, the scars of this war are still extremely visible, and it will take a long time for Iraq to fully recover.