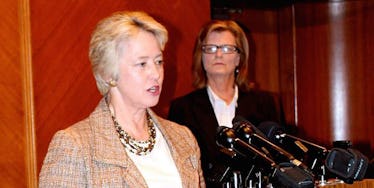 Houston Rejects An Anti-Discrimination Law That Protects LGBTQ Community
Houston voters rejected an anti-discrimination ordinance on Tuesday.
The measure was put in place to broadly prevent bias by factors like race, age, sexual orientation and gender identity in housing, employment, city contracting and business services, The New York Times reports.
Many major cities already have this same sort of measure. It seems to be a pretty general "be a decent human and don't discriminate" order.
But conservatives in the city saw the ordinance differently.
According to former Republican county chairman Jared Woodfill, it was a way to allow men in women's bathrooms and to push Houston Mayor Annise D. Parker's "personal agenda."
Parker, who has been mayor since 2010, is the first openly lesbian mayor of a major US city.
Opponents said the ordinance would present a risk to women as men could go into women's bathrooms and attack them. Reportedly, their motto was,
No Men in Women's Bathrooms.
On Tuesday, Lt. Governor Dan Patrick said,
The voters clearly understand that this proposition was never about equality – that is already the law. It was about allowing men to enter women's restrooms and locker rooms — defying common sense and common decency.
Essentially what we've got here is people using the idea men are horrible as a veil to disguise transphobia and homophobia.
While opponents of the bill said they're protecting women, there have not been confirmed reports of men pretending to be trans to attack women in female bathrooms or reports of cisgender people being harassed by transgendered people in these spaces, according to The Advocate and Mic.
On the other hand, a 2013 study from The Williams Institute at the UCLA School of Law found 70 percent of transgender and gender non-conforming participants said they had been "denied access, verbally harassed, or physically assaulted in public restrooms."
The study concluded,
Transgender and gender non-conforming people can find themselves in danger in the gendered spaces in our built environment. Until public policy and public administration can meet the challenge to address this problem and rethink our reliance on gender segregation in our built environment, the onus will always be on the individual to try to navigate these spaces safely.
Houston is set to host the Super Bowl in 2017. Ric Campo, chairman of the Houston Super Bowl Host Committee, told The New York Times NFL officials have discussed the ordinance.
Some LGBTQ activists called for the NFL to move the Super Bowl out of Houston. Brynn Tannehill wrote a column for Outsports and said,
The residents of Houston, in agreeing with these, have sent a clear message to transgender Houstonians that not only are they not wanted here, but that they should be afraid to be in public.
We're still waiting to see what the NFL has to say.
Citations: Houston Voters Reject Broad Anti-Discrimination Ordinance (The New York Times)