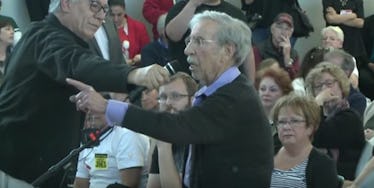 Holocaust Survivor's Emotional Warning On Trump Immigration Policy Goes Viral
YouTube
At a public forum in Sacramento, California, on March 28, a Holocaust survivor warned Trump's chief immigration enforcer "history is not on your side" while delivering impassioned remarks on the president's harsh stance toward undocumented immigrants and refugees.
Bernard Marks, who was imprisoned at both Auschwitz and Dachau during the Holocaust, directed his statements at US Immigration and Customs Enforcement Acting Director Thomas Homan and Sacramento County Sheriff Scott Jones, who were in attendance.
According to the viral footage, Marks said,
When I was a little boy in Poland, for no other reason but for being Jewish, I was hauled off by the Nazis. And for no other reason I was picked up and separated from my family, who was exterminated in Auschwitz. And I am a survivor of Auschwitz and Dachau.
After the crowd applauded and cheered him on, he continued,
I spent five-and-a-half years in concentration camps, for one reason and one reason only: Because we picked on people. And you, as the sheriff, who we elected as sheriff of this county, we did not elect you for sheriff of Washington, DC. It's about time you side with the people here. And when this gentleman (Homan) stands up there and says he doesn't go after people, he should read today's (Sacramento) Bee. Because in today's Bee, the Supreme Court justice of the state of California objected to ICE coming in and taking people away from the courts. Don't tell me that this is a lie. We stand up here, Mr. Jones, don't forget. History is not on your side.
Marks received a standing ovation.
Homan responded by saying his agency will continue to make arrests inside courthouses.
Since announcing he would run for president, Donald Trump has made deporting undocumented immigrants a central part of his rhetoric.
On January 25, President Trump signed an executive order reaffirming his commitment to this.
Still, as evidenced by the response to Marks' speech, as well as opinion polls, there are many in the who US feel Trump's approach to immigration is draconian and inhumane.
In fact, a recent CNN/ORC poll showed most Americans do not agree with Trump's immigration policies, as 60 percent said the government's top priority in terms of immigration should be developing a plan to allow those in the US illegally who have jobs to become legal residents.
Meanwhile, 71 percent said the government "should not" attempt to deport all people currently living in the country illegally.
It appears only a small portion of the US supports Trump's immigration policy, which might help explain why his approval rating is currently at 35 percent, a historic low for a new president.
Citations: Auschwitz Survivor Confronts ICE Director: 'History Is Not On Your Side' (The Huffington Post)