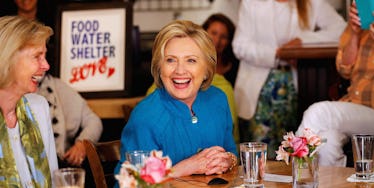 Hillary Clinton Trying Too Hard To Be Cool May Have Just Ruined Pokémon Go
REUTERS
Pokémon Go just got political. It already invaded every other aspect of our lives, so this was pretty inevitable.
Hillary Clinton, a former first lady, senator, secretary of state and now the presumptive Democratic presidential nominee, just made a major Pokémon Go reference on the campaign trail.
She said,
I don't know who created Pokémon Go, but I'm trying to figure out how we get them to do Pokémon Go to the polls!
ZING! She's got Pokémon jokes!
Yes, this really happened. This is real life.
It seems Clinton is hoping to use all the hype surrounding Pokémon Go as a means to get people to register to vote, and her campaign is holding a Pokémon-themed event in Ohio this weekend.
Per usual, Clinton's Pokémon reference generated a lot of reactions on social media.
Some found it amusing, but a lot of people are clearly pretty over this trend and not happy it's now invaded the political world.
The reaction was definitely mixed.
Whether or not Hillary Clinton can successfully capitalize on the popularity of Pokémon Go remains to be seen. But, she also might have just destroyed it.
Sometimes, when you try to be too hip, it backfires. This tweet from a few days ago essentially predicted all of this.
All of this is kind of reminiscent of when our parents started using Facebook -- it just stopped being cool.
Meanwhile, when Trump was asked whether he plays Pokémon Go, he stated,
I don't, but people are playing it. No question about it. I do not -- I wish I had time.
Now we know where both Trump and Clinton truly stand on this vital issue.
You know we live in strange times when the presumptive presidential candidates for the two major political parties are talking about Pokémon.