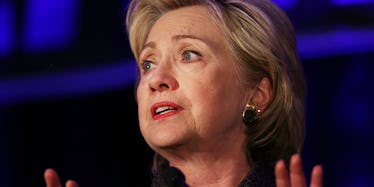 Hillary Clinton Compared Herself To An Abuela, And Twitter Wasn't Happy
Getty Images
Hispanic Twitter users are furious at Hillary Clinton's latest attempt to relate to their culture.
According to Mashable, a December 21 post on the Democratic presidential frontrunner's website is titled "7 things Hillary Clinton has in common with your abuela."
Abuela is the Spanish word for grandmother.
The post first claims Clinton "worries about children everywhere" by citing a quote in which she said "you should be able to be the granddaughter of a factory worker or the grandson of a truck driver" to succeed in the US.
This is followed by a reminder of Clinton's views on vaccines and a GIF of her laughing to herself to show the way the former first lady reacts "when people le faltan el respeto," or show disrespect.
Another quote features Clinton criticizing Donald Trump's misogyny under the caption "She isn't afraid to talk about the importance of el respeto (especially when it comes to women)."
Two more GIFs appear next, with the first quoting Clinton's admiration of those working for the DREAM Act before the other recalls her saying "I have one just one word for Mr. Trump: Basta! Enough."
The post ends with a photo of Clinton on stage with Marc Anthony under the caption "Everybody loves abuela—even this guy."
It wasn't long before the Hispanic Twitterverse erupted to remind Clinton she has as much in common with Hispanic grandmothers as Donald Trump has with Bernie Sanders.
Many were quick to note Clinton's lack of financial struggle.
Her immigration policies were also targeted...
...as well as the US government's role in Mexico.
Some proclaimed their grandmothers would never stay with an unfaithful husband.
But the overwhelming message was simply Clinton's public relations team needs to go back to the drawing board.
Citations: Hillary Clinton says she's your abuela. Twitter says nope. (Mashable), 7 things Hillary Clinton has in common with your abuela (Hillary Clinton)