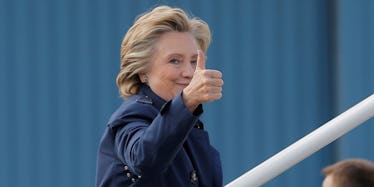 Hillary Clinton Looks So Different With New Haircut And The Internet's Obsessed
REUTERS
Hillary Clinton debuted a brand new haircut on Snapchat on Wednesday.
She was featured giving a selfie pep-talk on Snapchat's Discover story for International Women's Day.
In the clip, the former Secretary of State says,
There's a lot to fight for: Planned Parenthood, education, healthcare, jobs. Every issue is a woman's issue. So stand up, resist, run for office, be a champion.
This is a great message that women should take to heart, especially since we have startlingly low rates of women in office in the United States and fewer women run for office than men, mostly for frustrating reasons.
But while Clinton's message was strong, her haircut was loud, too.
Many were distracted by the brand new cut she displayed in the selfie video.
It's a long pixie -- really a shag with stylized bangs -- still in her signature blonde. Check it out:
Naturally, many Snapchat users had opinions on Hillary's hair.
Many people were shocked to see a changed hairstyle on Clinton in the first place.
A bunch of people loved Hillary's new hair...
... while others were busy making comparisons to what Clinton's haircut resembles.
Other people were men.
Overall, though, people seemed pretty excited to see a change to Clinton's hair.
We spent all of 2016 seeing her with a pretty similar cut, keeping the look consistent throughout the election.
So this chop was definitely noticeable. And relatable.
Because, well, we've all had those moments where we realize life isn't going to turn out the way we wanted it to and we aren't going to be the people we worked so hard to be because the American public decided to give that dream to an unqualified oaf of a white man instead and so the only solution is to completely change who we are and get a goddamn haircut, OK?????
It's fine.
Anyway, Clinton has always regarded her hair with some humor. In 1995, she joked,
If I want to knock a story off the front page, I just change my hairstyle.
In 2001, she said in a commencement speech at Yale University,
Pay attention to your hair because everyone else will.
Clinton knows what she's doing. She knows you're all freaking out about her hair.
Hopefully, that will make you remember what she was saying when she debuted the hair: Stand up, resist, run for office, be a champion.
Citations: Hillary Clinton debuted a new haircut on International Women's Day — and the internet is loving it (Mic), Clinton on International Women's Day: 'Stand up, resist, run for office' (The Hill), WHY AREN'T THERE MORE WOMEN IN CONGRESS? (Vox), Hillary Clinton's Best Hair Moments (Vogue)