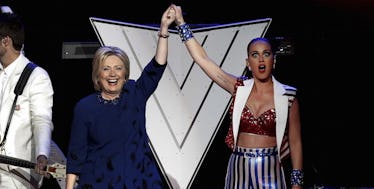 We Made Hillary Clinton A New Playlist Because We're Tired Of Her Old One
REUTERS / Mike Segar
Hillary Clinton still has two months of campaigning before the primary votes are all over.
That's two more months of stump speeches, selfies and Rachel Platten's "Fight Song" over and over and over again every single time Hillary stops talking.
Clinton has been using "Fight Song" as her theme for months. I get it, the song is a good choice -- it's got that female empowerment thing going on paired with the word "fight," which matches Clinton's slogan, "Fighting For Us." It's a new(ish) pop song, probably intended to make Clinton seem young and with it.
So I get it, even as the song haunts my dreams because I've heard it about a hundred million times at this point. I don't understand how Clinton isn't losing her mind over the song (Maybe she is in private!), but then again, we know she's got pretty great stamina.
Aside from just "Fight Song," the Clinton campaign has been using the same playlist at all its events. From Iowa to New Hampshire to New York, I've sat through the same round of songs waiting for Clinton -- and I haven't been going to nearly as many events as the Clinton staffers and pool reporters.
It makes sense to keep using the same playlist since you're ostensibly playing it for different people who haven't already heard it. But when Bernie Sanders has a super hip, live DJ, don't you want to at least switch up the playlist a little?
The Clinton soundtrack is clearly a thoughtfully-curated playlist, very well and deliberately put together. It includes songs like "Let's Get Loud" by Jennifer Lopez, "Happy" by Pharrell, "Shake It Off" by T-Swift, "Stronger" by Kelly Clarkson, "Wake Up Everybody" by John Legend, "Real Love" by Mary J. Blige, "Best Day Of My Life" by American Authors and "Roar" by Katy Perry.
It follows some general themes. Pretty much every song is a form of empowerment and self-love. They're all positive and forward-looking. The playlist has mostly female singers with a spattering of songs related to social justice.
The playlist includes many musicians who support Clinton -- and she's got a nice crop of them.
The songs are also all safe choices. Again, I get it in terms of a campaign: Don't give them something they can attack. While the songs are about empowerment, they're non-threatening empowerment. It's Taylor Swift empowerment, not Kanye West empowerment; it's Katy Perry's "Roar," not Katy Perry's "Dark Horse."
They're, well, songs you'd hear at your mom's spin class in the suburbs. (No offense, Mom.)
Following those guidelines, we put together an updated playlist for Hillary Clinton's campaign. Many of the selections are by the same artists, just different songs. We added newer pop songs from people like Alessia Cara and Daya that fit the theme and avoided artists who have voiced support for another candidate.
We also threw in a few songs by supporters she hasn't included, like 50 Cent and -- unbelievably -- Beyoncé. Lena Dunham, who has campaigned for Clinton, doesn't make music, but we added a song by her boyfriend's band, fun., and The Internet, whose music she included in a recent episode of "Girls."
We took a little liberty with the fact we're not actually running a campaign, so we could add songs like Drake's "Summer Sixteen," looking confidently to this summer's Democratic National Convention...
...and we also may have added YG and Nipsey Hussle's "F*ck Donald Trump."
So, Hillary, here's our new playlist for your consideration: