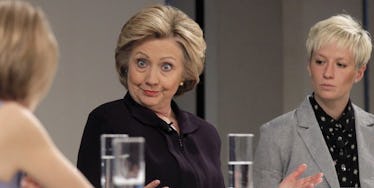 Hillary Clinton Lives By This One Rule From Beyoncé's 'Formation'
REUTERS / Brendan McDermid
Hillary Clinton channeled Beyoncé's "Formation" on Monday in a major way during an interview with "The Breakfast Club," the New York City-based radio show.
Clinton was asked to name one item she always carries with her. Without hesitation, she replied,
Hot sauce.
While she doesn't quote Beyoncé's song directly, the former secretary of state apparently has "hot sauce in [her] bag, swag."
When pressed by host Charlamagne Tha God on whether she was just pandering to black voters by essentially referring to a Beyoncé song, Clinton joked,
Is it working?
In Clinton's defense, she actually noted her affinity for hot sauce in past interviews and, apparently, puts that sh*t on everything, even salad.
Indeed, it seems Hillary Clinton is a bona fide hot sauce addict.
But sorry, Sriracha and/or Cholula fans, Hillary is all about the Tabasco. She did, however, reportedly keep a collection of over 100 different hot sauces in the White House while first lady, so she's not opposed to switching it up here and there.
Watch the full interview between Clinton and "The Breakfast Club" show above, which covers everything from how she and Bill got engaged to criminal justice reform.
Citations: Hillary Clinton has hot sauce in her bag (for health reasons) (The Washington Post), For Clinton as Top Diplomat, Tumultuous Closing Chapter (The Wall Street Journal), Hillary Clinton Rarely Listens to Her iPod, Always Packs Tabasco Sauce (Condé Nast Traveler), Hillary Clinton Apparently Has a Great Passion for the Hot Sauce (Slate)