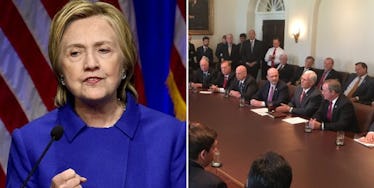 Hillary Clinton's Savage Trump Diss In New Speech Proves She's Finally Back
REX/Shutterstock
Hillary Clinton has come out swinging against the Donald Trump administration over the lack of women in top government jobs.
In a rare public speech since the election in November, Hillary called out photos posted by Trump and his team that show groups of men -- and men only -- discussing important issues.
And if you think the White House is trolling America by deliberately leaving women out of its pictures, don't worry. Hillary agrees.
Ironically, her comments came just days after Vice President Mike Pence tweeted a perfect example of what she was talking about.
According to Cosmopolitan, during her speech to thousands of women in San Francisco, Clinton said,
My favorite take on these pictures, maybe you saw it, the one of dogs sitting around an oval table? And the caption was, "Discussing feline care." I liked that.
Hear that, guys? Hillary loves memes, too, especially this one:
Let's circle back to VP Pence's tweet.
If you want to get specific, there are 25 white men sitting down in the picture, with no one else to be seen.
This prompted people to call out the government on Twitter.
Clinton cited a recent New York Times opinion piece that stated the decision to exclude women from these images was deliberate.
She said she agreed with that stance, adding it sends the message, "Don't worry, the men are in charge of everything."
She said,
Recently, photos have been making the rounds on social media, showing groups of men in Washington making decisions about women's health. Decisions to strip away coverage for pregnancy and maternity care, or limit access to reproductive healthcare around the group. We shake our heads, and think, 'How could they not have invited any women to the table?'
The failed American Health Care Act, which caused humiliation for Trump last week, was described as a "victory for all Americans" by Clinton.
Four women have been named to Trump's Cabinet.
Citations: Hillary Clinton's Latest Speech Proves She's "Out of the Woods" for Good (Cosmopolitan)