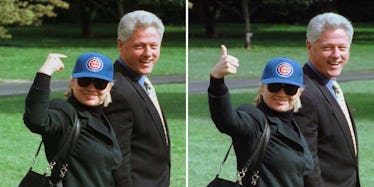 Hillary Clinton Celebrating The Cubs' World Series Win Will Give You Life
REUTERS
Democratic nominee Hillary Clinton was born in Chicago and has long been a Cubs fan.
So when they won the World Series on Wednesday night for the first time in her (and most living people's) lifetime, you can bet she was hyped.
While the game was going on, she was holding a rally out in Arizona. But by the time the rally ended, the game was still in action (thanks, rain delay), giving Clinton time to catch the end and see her team finally, finally, finally have a victory.
When it happened, we political nerds were all wondering if she had been able to see it.
Dan Merica, who has been covering the Clinton campaign for CNN, confirmed that Clinton did indeed get to watch the game. In fact, she delayed leaving the rally space to catch the Cubs win.
And then came the photos.
Clinton watched the end of the World Series on an iPad from her surrogate, Philippe Reines.
The photos show her watching the game and cheering in blissful happiness as the final out was made at first base and the Cubs won their first World Series since 1908.
You can bet Clinton then went ahead and flew the W, like a true Cubs fan.
Clinton has been rooting for the Cubs all season, perhaps hoping a November victory for her team would foretell a November victory for herself.
When the Cubs won the NLCS, making it into the World Series, Clinton was watching on an iPhone on her campaign plane. Photos show the excitement sports fans everywhere can understand.
Clinton's Cubs loyalty has been questioned, because people like to believe that nothing Clinton does is real, but her fandom has been well documented over the past few decades.
She wrote an op-ed in 1996 saying her family was all Cubs fans. Her father and brothers would "act out plays that had just happened and yell and scream and imitate announcer Jack Brickhouse."
But she also supports the Yankees, which made Republicans everywhere call her a pandering liar, especially since she ran for office in New York.
Clinton has explained many times that she picked up the Yankees because she could not stand supporting a constantly losing team.
Last month, she told Power 105.1,
I said to my father, I said, I was like really young 5 or 6, but I understood there was a difference between winning and losing. So I said, you gotta get a winning team. He said, well you can't. You gotta stick with the Cubs. I said, 'Ok, well I'll stick with somebody who doesn't play the Cubs.' I couldn't be a White Sox fan, 'cause that's like being a Mets or a Yankees fan. So I started looking at baseball cards and talking to kids. I said, the Yankees always win, so I'll be depressed about the Cubs and I'll be happy about the Yankees. That's how I balanced it out.
The Yankees were her winning team, and they're in the AL, so not a direct threat to the Cubs in the regular season.
Honestly, as a depressed Yankees fan who temporarily became a Cubs fan to watch and enjoy Game 7, I get it. But Clinton always held out hope.
Back in December 2015, Clinton signed a man's Cubs jersey. She apparently told him 2016 was the year both the Cubs and herself would be winning.
We've got less than a week left to see if a historic victory for the Cubs will translate to a historic victory for Clinton.
Elite Daily and 50 other media organizations partnered with Rock The Vote to register 100,000 women to vote. You can register right here (and men can use it too) :
Citations: Daily Mail, CNN, Hip Hop DX