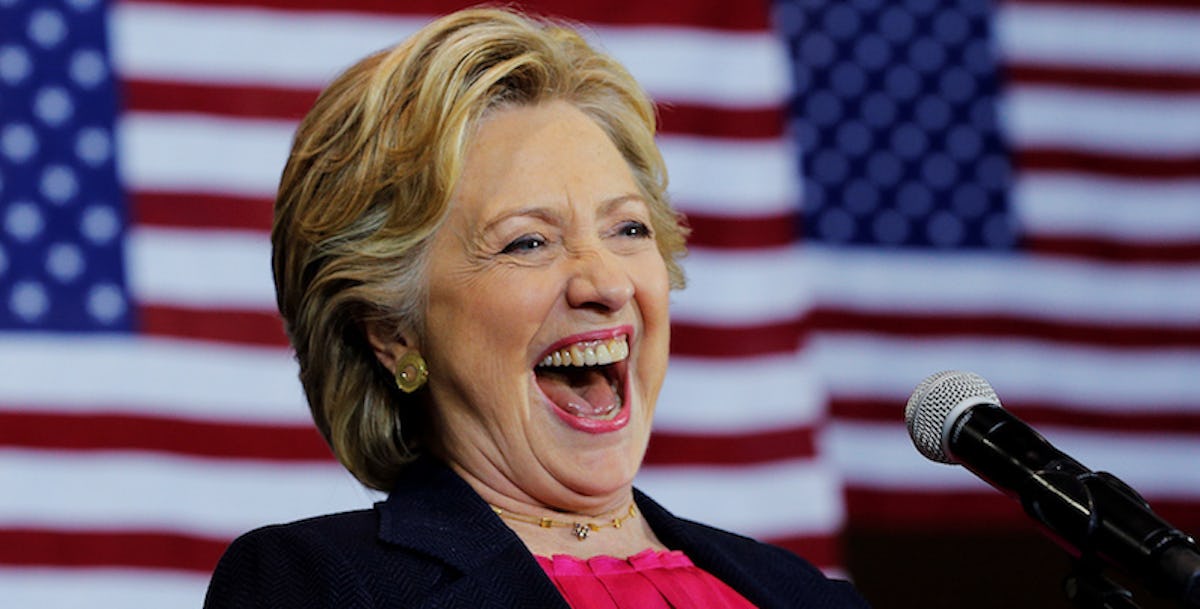 Hillary Clinton Convinced Girl Named Lily Not To Change Name To 'Lillary'
REUTERS
If it wasn't quite obvious that Hillary Clinton is a huge inspiration for girls across our nation, then read the story of 7-year-old Lilly.
Lilly's mom, Jennifer Rosen-Heinz, recently wrote in to the Clinton campaign to speak about how much the Democratic nominee means to her daughter.
In fact, Hillary is such an inspiration that Lilly wanted to change her name to "Lillary" so she could run for president one day as well.
She also added,
Thank you, Hillary… for shattering that glass ceiling for ALL girls and women in this country. Lilly dreams of making real change not despite being a girl, but BECAUSE she's a girl, and she knows her possibilities are infinite.
She didn't expect to hear back, but then she found a letter in the mail addressed to her daughter. She took to Facebook to share.
The letter read,
Dear Lilly: I received a terrific message from your mom, and was touched to learn that you want to change your name to 'Lillary' so that you can be president when you grow up. I think Lilly is a great name—and I hope you know that you don't have to change it to become president; if you dream big, work hard, and care deeply about what you believe in, there's no limit to what you can achieve. I know that it may seem like a lot now, but as you grow and learn and search for your own place in the world, I hope you'll consider how you can make your voice heard. Speak your mind in your classes, and at meetings once you have a job. Proudly take credit for your ideas. Have confidence in the value of your contributions. And if the space you're in doesn't have room for your voice, don't be afraid to carve out a space of your own. Don't be discouraged. Don't give in. Don't give up. Don't quit — on yourself, on your dreams, on your future. You really can be anything you want to be. I may become the first woman president, but you, Lilly, could be next. With warm wishes, I am Sincerely yours, Hillary
After school, Lilly read the letter out loud while holding her stuffed cat, Q-Tip. She said, with a flex of her bicep, that it made it her feel "happy and excited and strong."
The young girl, who will be Wonder Woman for Halloween, said of Clinton,
She's the first girl president. And I would be the second.
Citations: Hillary Clinton offers this inspiring advice to a 7-year-old who wanted to be called 'Lillary' (Washington Post)