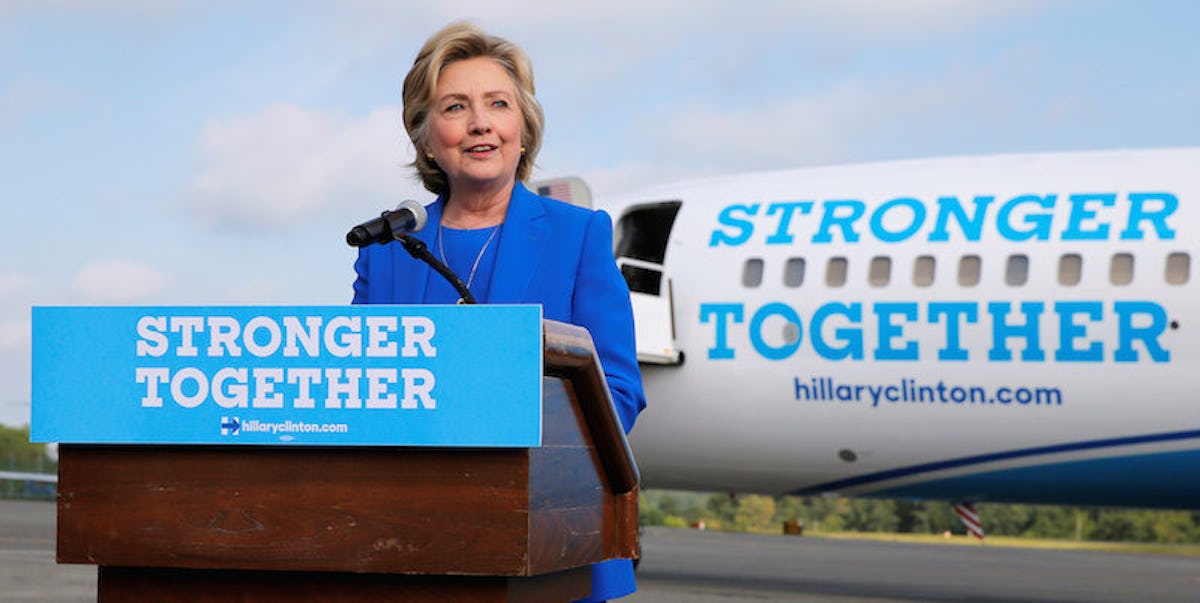 Hillary Clinton Isn't Surprised Beating Donald Trump Has Not Been Easy
REUTERS
Hillary Clinton and Donald Trump are basically tied in the latest national poll.
Forty-two percent of likely voters support Clinton and 40 percent support Trump, according to the George Washington University poll.
Some see this closeness in the race as a surprise, given that you have a highly experienced Democratic nominee with a well-organized and funded campaign going against a reality TV star with a disorganized mess of a campaign.
But Clinton herself is not surprised by the latest numbers.
After months of avoiding press conferences, she held one on an airport tarmac in New York on Thursday morning.
One reporter asked her about the latest poll. The reporter said,
Given what you say are his historic inadequacies and his disqualification on the commander-in-chief point that you just made, shouldn't you just be pretty much running away with it at this point?
Clinton responded that she "always thought this was going to be a close election." She said that this is why her campaign has been so highly organized in preparing for November.
Clinton said she feels she's in "a strong position," but is continuing to push on and hard.
We are going to keep working as hard as we can.
Clinton's campaign has been preparing around the country, while Trump's has been struggling to figure out exactly where it should be.
However, we can't take anything as an indication of where the election is headed. Trump's campaign has been unorthodox from the start, but he still managed to beat out over a dozen established political competitors to get the Republican nomination.
It's not like Clinton is going against a typical political adversary.
Clinton and Trump are both very much disliked in America: Trump is the most historically disliked candidate, with Clinton as the second most historically disliked candidate. This is certainly something with which the campaigns have to contend.
And it's not like Clinton is a typical nominee, either.
She's dealing with three decades' worth of campaigns against her. The Republicans have been building that case ever since Bill Clinton rose to political prominence with an ambitious, working first lady coming with him to try to get things done.
Clinton's experience is also often a weight on her campaign. Her long political record can be used against her by the Republicans. Since Trump does not have a political record, he does not have that particular liability.
Sadly, there are still two more months until this damn thing is over.
Citations: CNN, New York Times, Business Insider, New York magazine, Five Thirty Eight