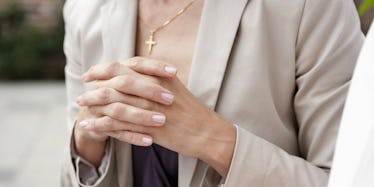 The Heartwarming Reason Christians Are Praying At Mosques On Inauguration Day
REX/Shutterstock
A group of Christians in California is marking Inauguration Day in unique fashion.
That group is the Los Angeles-based Progressive Christians Uniting, and it says it's praying with Muslims on Friday in the name of unity against the threat against religious freedom.
Join progressive Christians in solidarity with Muslims at mosques on Inauguration Day - https://t.co/j5aWnRinIA pic.twitter.com/OjphTtC4K5 — ProgressiveChristian (@PCULosAngeles) January 12, 2017
PCU's president, Rev. Paige Eaves, told the Huffington Post,
As people of faith, we consider religious freedom for all people to be a priority. We are concerned that if one form of religion can be targeted for registration, surveillance, and other violations of civil rights, then the same persecution could happen to any form of religion.
Another member of the organization, Rev. Timothy Murphy added,
We're here to remind our Muslim brothers and sisters that they belong here, and we love them.
In a newsletter, PCU made it clear that its decision to pray at mosques on Friday is, in part, a reaction to the "many xenophobic and anti-Islamic public statements" made by President Donald Trump.
The apparent motive is to preemptively fight against a restriction or suppressions of religious freedom for everyone, before the worse comes to worst.
As people of faith, Progressive Christians Uniting (PCU) is mobilizing its network of members to show their solidarity and support for our Muslim brothers and sisters by attending mosques for Friday juma'a prayer on Inauguration Day, 1/20. PCU believes that it is our duty as Christians to be a faithful presence among those whom are persecuted and also provide a prophetic witness against such persecution.
PCU's gesture is not unlike others that have been made toward the Muslim community in direct response to the election of President Trump.
One example? Shortly after the election, a letter was left on an Indian mosque's door in a show of solidarity with Muslims who were fearing the worst.
I'm scared that today will be the last day I felt somewhat safe wearing my hijab. https://t.co/C29V7GGOXj — Blair Imani (@BlairImani) November 9, 2016
According to its newsletter, PCU will be sending members to seven different mosques in the Los Angeles area.
Considering their reasons for being there, it looks safe to assume their presence will be welcomed there.
Citations: Huffington Post