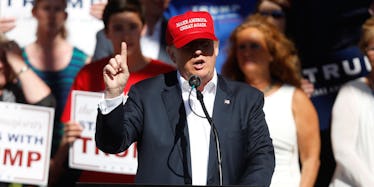 This GOP Senator Sent Out A Powerful Anti-Trump Apology Right Before He Died
REUTERS
Most of us probably envision spending our final days surrounded by family and loved ones. Death is an unsettling concept, and it's comforting to think about being close to those we care for the most in our last moments.
While this was definitely the case for former GOP Senator Bob Bennett of Utah, who passed on May 4 due to pancreatic cancer and other health issues, he also used this time to send out a moving and powerful apology to a particular group of people.
According to Bennett's family, who spoke with the Daily Beast, even though he'd recently had a stroke and it was evident he was not long for this world, one of the former senator's dying wishes was to apologize to Muslims for Trump on behalf of the Republican party.
Not long before he passed, Bennett said,
Are there any Muslims in the hospital? I'd love to go up to every single one of them to thank them for being in this country, and apologize to them on behalf of the Republican Party for Donald Trump.
Bennett was reportedly deeply troubled by Trump's anti-Muslim rhetoric, which has included a proposal to ban Muslims from entering the US as well as requiring them to carry special identification.
According to Bennett's son,
[Bennett] was astonished and aghast that Donald Trump had the staying power that he had… He had absolutely no respect for Donald Trump, and I think got angry and frustrated when it became clear that the party wasn't going to steer clear of Trumpism.
While Bennett understandably did not have the physical capacity to reach out to Muslims in the hospital right before he died, his wife said he made a concerted effort to do so in the months prior. She stated,
He would go to people with the hijab [on] and tell them he was glad they were in America, and they were welcome here. He wanted to apologize on behalf of the Republican Party.
It says a lot about the negative impact Trump's having that a former Republican senator used his dying breaths to express his trepidations about the real estate mogul and his presidential campaign.
What Trump has said about Muslims is deeply troubling, and stands in stark contrast with America's history and values.
The first country in the world to recognize the independence of the US was Morocco in 1777 -- a Muslim nation.
Muslim soldiers served alongside General George Washington, and today more than 5,000 Muslims serve in the US military.
There are 1.6 billion Muslims in the world, the vast majority of them are peaceful and worthy of being treated with dignity and respect. Bennet used the twilight of his life to remind us all of these indispensable facts.