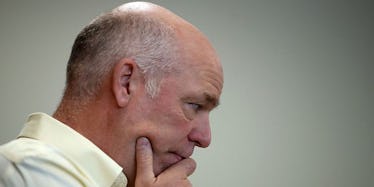 GOP Politician Allegedly "Body Slams" Reporter, And The Audio Recording Is Nuts
Getty Images
A Republican congressional candidate allegedly "body slammed" and "punched" a reporter, according to multiple news accounts, and is now in hot water.
The candidate is Greg Gianforte, the GOP nominee for Montana's lone (and vacant) seat in the House of Representatives, who was recorded on audio having seemingly violent exchange with a journalist on Wednesday night.
The recording can be heard below.
It begins with the journalist, Ben Jacobs of The Guardian, asking Gianforte two questions about the GOP's healthcare bill. It ends with crashing noises and Jacobs saying, "You just body slammed me and broke my glasses."
Gianforte could be heard shouting in the recording, and saying, "Sick and tired of you guys, the last time you came in here you did the same thing."
Jacobs then tweeted about the experience, claiming Gianforte "body slammed" him and broke his glasses.
The "local TV crew" to which Jacobs referred to in his second tweet appears to actually have been a team from the Fox News Channel, which included veteran reporter Alicia Acuna.
Acuna gave her own account of the incident in a report she filed for FoxNews.com.
In the report, Acuna claims she witnessed Gianforte not only body slam Jacobs, but also grab the journalist by the neck with two hands.
Gianforte then began punching the reporter, according to Acuna's account.
Naturally, The Guardian provided its own report on the incident, too.
In the report, Jacobs is said to have provided comment while riding in an ambulance, saying,
He [Gianforte] took me to the ground. I think he wailed on me once or twice ... He got on me and I think he hit me ... This is the strangest thing that has ever happened to me in reporting on politics.
Jacobs was also interviewed by MSNBC host Chris Hayes. During the interview -- which Jacobs says he provided while sitting at the hospital -- he described the incident in detail.
EXCLUSIVE: Guardian reporter Ben Jacobs says he was "body slammed" by Montana GOP candidate Greg Gianforte https://t.co/grp5pVrlCi — NBC News (@NBCNews) May 25, 2017
A statement from Gianforte's representative, reported by Fox News, explained the matter for the politician's point of view. An excerpt from the statement reads,
After asking Jacobs to lower the recorder, Jacobs declined. Greg then attempted to grab the phone that was pushed in his face. Jacobs grabbed Greg's wrist, and spun away from Greg, pushing them both to the ground. It's unfortunate that this aggressive behavior from a liberal journalist created this scene at our campaign volunteer BBQ.
Gianforte was issued a citation for misdemeanor assault and is scheduled to appear in court by June 7, according to a statement from Gallatin County sheriff Brian Gootkin.
Three Montana newspapers have pulled their endorsements of the GOP House candidate. The election for Montana's vacant House seat, in which Gianforte is challenged by Democratic nominee Robert Quist, is scheduled for Thursday night.