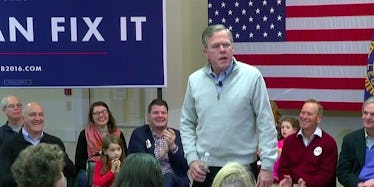 GOP Candidate Jeb Bush Calls Donald Trump A 'Jerk' During Campaign Event (Video)
It's not exactly a secret that liberal Americans hate Donald Trump — but now, even his own party is turning on him.
While campaigning in New Hampshire on Saturday, Republican candidate Jeb Bush — younger brother of former president George W. Bush — denounced Trump as a "jerk."
His dig comes just one day after Trump called Bush "dumb as a rock" on Twitter.
In front of a large crowd in Contoocook, New Hampshire, and on camera, Bush declared,
Just one other thing — I gotta get this off my chest — Donald Trump is a jerk. You cannot insult your way to the presidency. You can't disparage women, Hispanics, disabled people. Who is he kidding? This country is far better than that, and the idea that he's actually running for president and insulting people is deeply discouraging.
I never thought a Bush would echo my every thought, but his honest comment just goes to show how out of touch Trump is with reality. You know he's gone too far when even the most conservative Republicans find his beliefs offensive.
Here's hoping the rest of the country agrees — because if Trump actually wins the presidency, we're all in deep sh*t.
Citations: Jeb Bush Gets Something Off His Chest Donald Trump Is A Jerk (BuzzFeed)