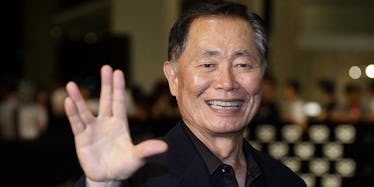 George Takei Invited Donald Trump To His Play About Internment Camps (Video)
Getty Images
After Donald Trump said he wanted to ban all Muslims from entering the United States, he also said he may have supported the internment of Japanese Americans during WWII.
He told TIME,
I certainly hate the concept of it. But I would have had to be there at the time to give you a proper answer.
Well, legendary actor and meme collector George Takei was there at the time. When he was a child, Takei and his family were sent to an internment camp for Japanese Americans.
Takei now stars in the Broadway show "Allegiance," inspired by his time there.
In a new video posted to his Facebook page, Takei invited Trump to the show.
Donald Trump recently said he might have supported the internment camps of WWII. I felt I had to respond, and in the best way I could. Posted by George Takei on Wednesday, December 9, 2015
Takei said,
If you want to see how tough it was from the comfort of your seat, you can be there with us in the camps and get a glimpse of what it was like for families like mine who were unjustly imprisoned thanks to a politics of fear -- much like the one you're campaigning on.
The Japanese-American internment camps are widely regarded as a dark spot in American history and a clear instance of American freedom being taken away from citizens.
Takei told Trump,
I'm throwing it down. Come see 'Allegiance' -- unless you're chicken.
Takei has not been one to back away from Trump. Last month, he said Trump's view on Muslims "has a Nazi echo."
We're waiting to hear if Trump will respond to Takei's challenge.