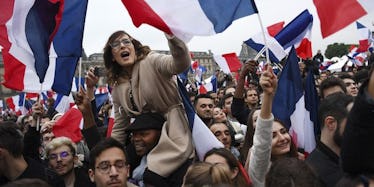 These French Election Tweets & Memes Prove The Voters Have Bragging Rights
David Ramos/Getty
During more normal times in America, all eyes aren't on a French presidential election. Of course, we're most definitely not living in ordinary times — following Brexit, Theresa May becoming Prime Minister of the United Kingdom, and Donald Trump's shocking victory here at home, it's fair to say that British and American voters haven't exactly make stellar choices at the polls recently.
So, when centrist politician Emmanuel Mecron defeated his far-right opponent Marine Le Pen and became president, it was a moment to celebrate. Sure, it's not our country — but it's an encouraging sign that, yes, the far-right can be defeated.
As we watched the results come in, people took to (where else?) Twitter to share their joy and applaud French voters for making the right choice.
There was definitely some pre-election anxiety
Seriously — it's not fun. NOT EVEN A LITTLE.
Here's some actual footage of people praying for a Macron victory.
How did Obama and Trump react when Macron was named president?
That looks about right.
The results have given hope to many people
It's a pleasant change of pace.
Their time is over.
When love trumps hate, it's a victory for people all over the world.
Don't let the door hit you on the way out!
The French have bragging rights for days
Some people accuse the French of being conceited — I never want to hear that complaint again, because they just proved themselves to be way more responsible, informed voters than the people who showed up for Britain and America's recent elections.
Amen.
But, jokes aside, the French voters sent a strong message today — they won't let hate and fear prevail in their country. Furthermore, an estimated 74 percent of eligible voters went to the polls today. Although that's low by France's standards, just 55 percent of eligible voters cast their ballots in America on November 8. And we all know how that turned out.
Citations: French election: Macron defeats Le Pen to become president (BBC), French election: Voter turnout well down on previous presidential elections (The Local), Voter turnout at 20-year low in 2016 (CNN)