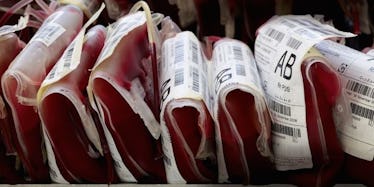 FDA May Let Gay Men Donate Blood, But Only If They're Not Having Sex
Shutterstock
The Food and Drug Administration (FDA) proposed new guidelines last week on blood donations from gay men.
It may soon be possible for gay men to donate blood, but only if they have not had sex with another man for a year.
While this rule is more lenient than the current one banning any man who has ever had sex with another man from donating blood, it still symbolizes a degree of discrimination toward the gay community.
For those unaware of the history behind the ban, the rule states no man can donate blood if he has had sexual contact with another man any time since 1977. Period.
During the past three decades, if you were a sexually active gay man with no medical history of illness or disease, you were still not allowed to donate blood strictly based on your sexual orientation.
At the time this law was passed by the FDA in the 1980s, there was actually some logic to it. The HIV/AIDS epidemic was rampant, and we didn't have the technology to test blood for the disease. Back then, it took up to six months to find out if you had HIV because the virus could have been in the body but not yet in the blood.
However, since the disease was first recognized in the United States, many people have come to believe it is some kind of gay disease. While this wasn't true at the time of the ban and still isn't today, the stigma still arose.
Society has a history of associating HIV/AIDS with the gay community, leading to the uninformed belief that homosexuals' blood is dirty, unnatural and impure. This also helped create stereotypes that all gay men are sexual deviants and partake in risky sexual behavior.
Considering society's mindset and that HIV had been passed via blood transfusion, it's no wonder gay men were denied the ability to donate blood in the 80s. Although controversial at that time, the ban seems to make even less sense today.
Especially when there are ill citizens in desperate need of blood.
We now have technologies that, just nine to 11 days post infection, can detect HIV in the blood, and we now have a clear understanding that homosexuality is not synonymous with infection: The majority of gay and bisexual men are not HIV positive.
HIV is a human condition, not just a gay condition.
Although the FDA is finally entertaining the idea of letting gay men donate, the one-year abstinence requirement makes it problematic. The message they're sending is: We'll take your blood, but only if you're celibate.
The proposal, and its mixed messages, doesn't show any significant progress and understanding toward gay citizens. There's still an outdated fear and prejudice being held, and it holds no scientific or medical rationale.
David Stacy of the Human Rights Campaign explains,
This policy prevents men from donating life-saving blood based solely on their sexual orientation rather than actual risk to the blood supply.
The American Medical Association and American Red Cross are in favor of lifting this ban entirely because they believe it is scientifically unwarranted, and the policy suggests the FDA takes identity more into account than an individual's behaviors.
A heterosexual man can have an orgy with 100 women, not use a single condom, and still be allowed to donate. But a sexually active gay couple in a monogamous relationship can't.
You're head should be tilting in confusion at the above scenario, but these are the policies the FDA enforces.
Something's not right about this, and it needs to be addressed. It needs to be addressed not only so the gay community has the same chances to donate as all other citizens, but because our country needs more donors.
The FDA's ignorance is costing the lives of those who are in desperate need of blood transfusions.
A study at the Williams Institute at UCLA School of Law found,
If the current FDA blood ban on men who have sex with men (MSM) were lifted, an estimated 360,600 men would likely donate 615,300 additional pints of blood each year. Lifting the ban would increase the total annual blood supply in the US by 2 to 4 percent and could be used to help save the lives of more than a million people.
While the FDA is taking a step in the right direction, there is still progress to be made until it understands that blood from the gay community can save lives, just like any other blood.
Citations: FDA Takes Steps to End Lifetime Ban on Gay Male Blood Donors (ABC News), The Top Ten Myths About HIV AIDS (Americans In Partnership Against AIDS), Effects of Lifting Blood Donation Bans on Men who Have Sex with Men (The Williams Institute)