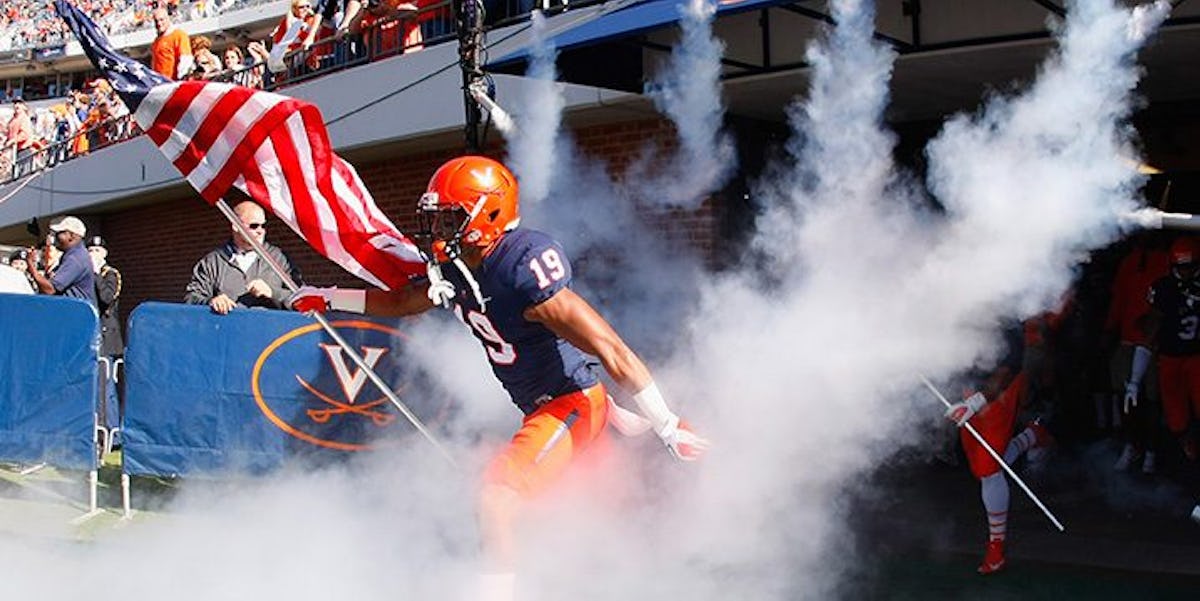 ESPN Pulled An Announcer Named Robert Lee From A UVA Game And It's Obvious Why
Geoff/Burke
If you're struggling to decide whether you should be outraged that ESPN pulled announcer Robert Lee from a University of Virginia football game, you might want to consider that there's nothing worth being outraged about in the first place. After all, there does seem to be a large discrepancy between how the story was first reported and what ESPN has explained since. Let's start at the beginning.
On Tuesday night, Aug. 23, Fox Sports' Clay Travis published an article on his website titled, "MSESPN Pulls Asian Announcer Named Robert Lee Off UVa Game To Avoid Offending Idiots."
The article reports ESPN's Robert Lee was pulled from announcing a game between Virginia and Williams & Mary, with consideration towards the recent protests in Charlottesville, the site of both a controversial statue of Confederate Gen. Robert E. Lee and the University of Virginia itself (in a statement, the network said their announcer was switched to the game between Pittsburgh and Youngstown State, which will air on the same network).
The article then goes on to assert how ESPN is an "idiotic company" that continues to get "dumber."
Let's move past the fact that it definitely doesn't sound like Travis already has an axe to grind with ESPN.
Considering the report, you might ask, "isn't ESPN moving a commentator in anticipation of people getting offended pretty unnecessary?" To which I'd respond: I mean, I guess.
Or, you might play devil's advocate and insist, "come on, you have to admit the situation would be a little awkward, right?" To which I'd respond: I mean, I guess.
Ultimately, in my opinion, there's no reason to feel strongly either way about the initial story.
It's just not that big of a deal. And here we are, talking about it as if it is, thanks in no small part to the reaction on Twitter.
OK, that last one was funny.
The bottom line though: in a twist that is all too rich in irony, the people criticizing ESPN for being soft are the ones now claiming "there's no coming back from this," telling us they're "blown away," and lamenting how the network is "punishing" an announcer.
It's the classic overreaction to the overreaction, which is the most annoying overreaction of them all.
And the responses become even more ridiculous when you consider another explanation -- that ESPN did this protect their announcer from ridicule and that the announcer agreed, which an ESPN executive explained in a statement below:
If that's the case -- that there was some foresight of Lee becoming the focus of easily avoidable jokes -- then it's obvious why someone at ESPN would think, "uh, yeah, maybe this isn't worth it."
This is not rocket science. We know how the internet works.
If something is funny enough, we'll share it and ask questions later without giving a damn about who's the butt of the joke. We even took Michael Jordan, literally the greatest athlete this country has ever produced, and reduced him to a crying meme.
It's not exactly stupefying that someone would consider a game as meaningless as UVa-William & Mary to not be worth the (albeit, perhaps small) risk.
Ultimately, what happened here is that a commentator got switched from one game that's sure to end up in a blowout, and then assigned to another game that will end the same.
There's not much here to get yourself worked up about, and it's probably be best to react accordingly.
Or you can get mad about how this is a low point for society, which totally isn't the dramatic, PC snowflake thing to do at all.