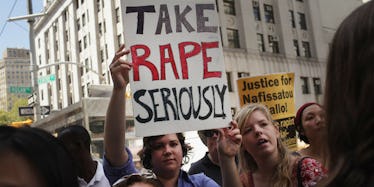 Education Department Rep Apologizes For Campus Sexual Assault Comments
Spencer Platt/Getty Images
On the eve of a Department of Education roundtable on campus sexual assault and Title IX, the department's Acting Assistant Secretary Civil Rights, Candice Jackson, has apologized for comments she made earlier this week to The New York Times about rape accusations.
On July 12, the Times quoted Jackson as saying,
Rather, the accusations — 90 percent of them — fall into the category of 'we were both drunk,' 'we broke up, and six months later I found myself under a Title IX investigation because she just decided that our last sleeping together was not quite right.'
Her comments outraged advocates for survivors of sexual assault. In her apology, she said,
I would never seek to diminish anyone's experience ... What I said was flippant, and I am sorry.
But to many, her apology rings false.
Safety Advisors for Educational (SAFE) Campuses, one of the nonprofits invited to DeVos's roundtable, tweeted earlier today, seemingly in response to Jackson's comments.
Washington Senator Patty Murray, who is a senior member of the committee that oversees the Department of Education and has previously pushed Education Secretary Betsy DeVos to enforce civil rights protections, said in a letter to DeVos that Jackson's comment "suggests a fundamental misunderstanding of campus sexual assault and suggests that (Jackson's office) is not prepared to take accounts from survivors seriously."
The comments signal what advocates worry is part of a bigger shift away from civil rights protections for survivors since DeVos took over the department.
DeVos came under fire this week for inviting several men's rights groups -- including one that has outed survivors of sexual assault -- to a roundtable on campus sexual assault. The move, to many, signaled, yet again, the possibility that DeVos' Department of Education is getting ready to weaken an Obama-era Title IX guidance on campus sexual assault.
And when Dana Bolger and Alexandra Brodsky, co-founders of survivor advocacy group Know Your IX, wrote a Washington Post op-ed criticizing the department's inclusion of men's rights groups, they were swiftly disinvited from the meeting, according to Brodsky.
Elite Daily has reached out to the Department of Education for comment.
Brodsky is attending today's meeting as a guest of Girls, Inc., an educational advocacy group that "equips girls to navigate gender, economic, and social barriers and grow up healthy, educated, and independent."