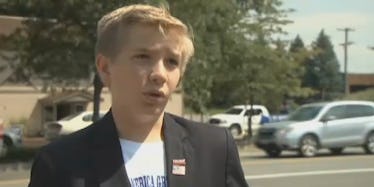 If Donald Trump Wins Colorado, He'll Have His 12-Year-Old Manager To Thank
FOX31 Denver
Between his inability to take criticism and his lack of creativity when it comes to nicknames ("Crooked Hillary," come on, son), Donald Trump has been accused of being pretty childish.
So, it feels kind of appropriate a 12-year-old boy named Weston Imer is managing Trump's campaign office in Jefferson County, Colorado.
Jefferson County is one of the most populous counties in Colorado, a crucial swing state.
According to The Hill, Imer is responsible for mobilizing volunteers to motivate people to vote for Trump in the presidential election in November.
Regardless of what you think of Donald Trump, you have to give the kid some credit for being so politically active at such a young age.
Speaking with FOX31 Denver political reporter Joe St. George, Imer urged other young people to follow his lead. He said,
Get involved -- kids need to be educated.
The 12-year-old also has big political ambitions for the future and said he wanted to run for president alongside Trump's son, Barron Trump, in 2040.
Weston's mother, Laurel Imer, is the official field coordinator for Donald Trump in Jefferson County, but she reportedly wanted to inspire other parents by giving her son so much responsibility.
Citations: 12-year-old running Trump campaign office in Colo. (The Hill), GOP rep.: Trump acts like a child, damages Republican brand (The Hill), 12 year old helps open Trump's Colorado campaign office (FOX31)