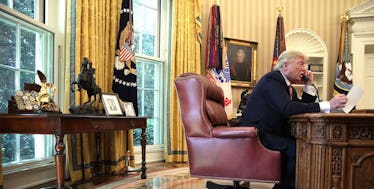 Donald Trump's Defense About Calling The White House A "Dump" Has A Big Disclaimer
Alex Wong/Getty Images
Donald Trump took a lot of heat on social media on Tuesday thanks to… his comments about real estate? As a former real estate developer, the president is hardly a stranger to talking about buildings. But this time, people were furious to hear that Trump reportedly called the White House a "dump," according to the Aug. 7 edition of Sports Illustrated.
A story in the magazine, published online on Aug. 1, quoted the president as telling golfers at his Bedminster club in New Jersey that he was frequently in attendance there because, "that White House is a real dump." Critics, including former first daughter Chelsea Clinton, quickly called out the statement.
And on Aug. 2, Trump responded to the criticism via his favorite platform, Twitter.
He totally denied ever insulting the presidential residence, calling the SI story fake news.
"I love the White House, one of the most beautiful buildings (homes) I have ever seen," he wrote. "But Fake News said I called it a dump - TOTALLY UNTRUE[.]"
Putting aside the fact that Trump pretty much just likes to call any news he doesn't like "fake," he had an interesting choice of words to convey his feelings about the White House.
His tweet says that the White House is one of the most "beautiful buildings (homes)," separating it from other kinds of buildings, such as, say, hotels, or golf courses. He also added the qualifier, "one of the most," which is unusual for a man who likes his superlatives.
It's a weird choice of words, considering Trump doesn't really have a problem calling anything "beautiful" on its own.
For example, he's called his hotels and resorts "beautiful" on a number of occasions, without any of those "one of" the most or style-of-building qualifiers.
His golf courses too.
And nary a parenthetical in the bunch.
What gives?
Maybe Donald is just thinking longingly of his private villa on the Bedminster grounds. But at least Trump is willing to concede that the presidential residence is among the list of the "most beautiful" buildings, of a given style, that he's ever seen. Looks like those gold curtains in the Oval Office are doing the trick at making his new digs feel like home.