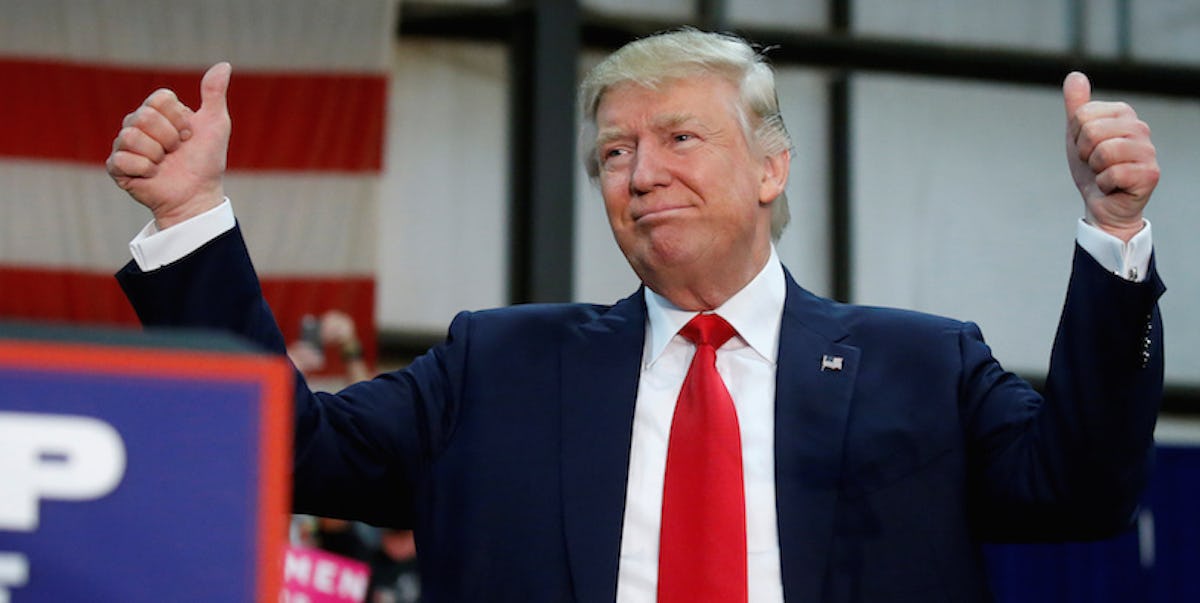 Donald Trump Trying To Speak Hindi Sounds Just As Cringey As You'd Imagine
Donald Trump
Donald Trump speaks Hindi in a new campaign ad aimed at garnering support among Indian-Americans, and it's arguably one of the strangest things he's done in an election full of strange moments.
In his thick New York accent, the real estate mogul stated,
Ab ki baar Trump sarkar.
This translates to,
This time Trump government.
The video ends with Trump saying,
We love the Hindus, we love India.
The ad comes not long after Trump addressed the Indian-American community at a charity event in Edison, New Jersey on October 15.
At the event, Trump stated,
I am a big fan of Hindu and a big fan of India.
The real estate mogul also praised India's Prime Minister Narendra Modi, saying,
I will look forward to working with Prime Minister Modi, who has been very energetic in reforming India's bureaucracy. Great man! I applaud him for doing so. And I look forward to doing some serious bureaucratic trimming right here in the United States. Believe me, we need it also.
According to a 2014 Census Bureau estimate, there are 3.4 million Indian-Americans in the US.
As The Washington Post highlights, Trump has been criticized for equating Indians with Hindus, which ignores the fact India has 172 million Muslims, 28 million Christians, 21 million Sikhs and eight million Buddhists, among other religious groups.
This might help explain why only 7 percent of Indian-Americans voted for Trump in the primaries and only 7 percent have said they are likely to vote for him in the general election, according to the 2016 National Asian American Survey.
Meanwhile, Hillary Clinton is viewed very favorably by Asian-American voters overall, with 63 percent of this demographic supporting the former secretary of state.
Election Day is now less than two weeks away. The latest Associated Press poll shows Clinton with a massive 14-point lead over Trump among likely voters -- 51 percent to Trump's 37 percent.
In short, in spite of Trump's efforts to court any voters he can by awkwardly speaking Hindi, things are looking pretty good for Clinton.