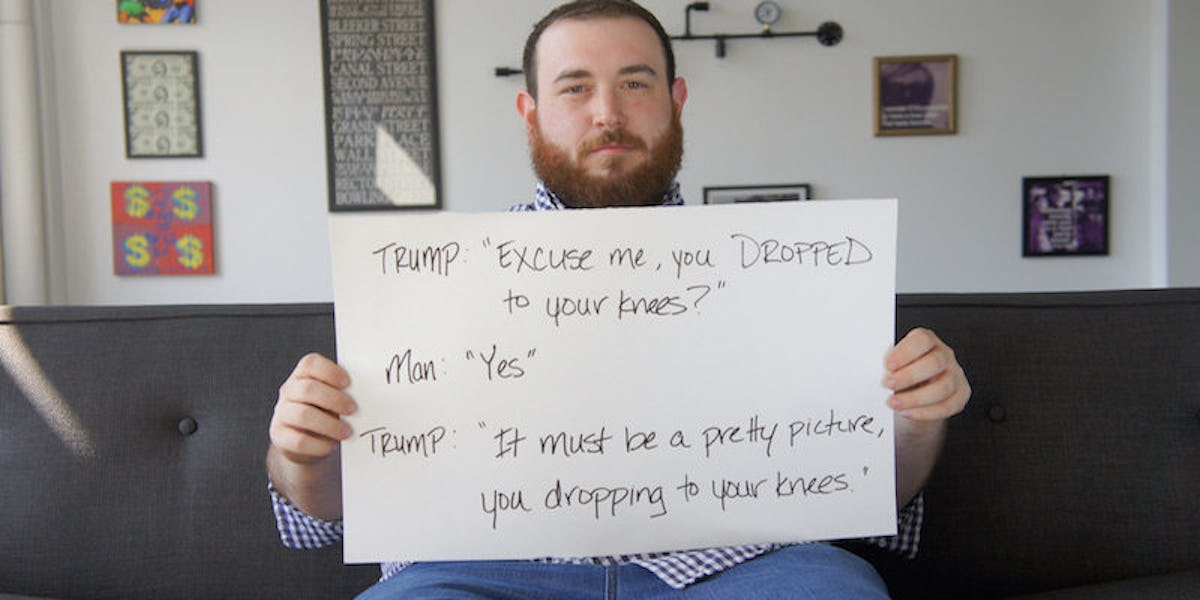 What It Would Look Like If Donald Trump's Sexist Quotes Were About Men
Donald Trump says sexist things. I did not break this news, and Trump certainly does not hide his misogyny.
Trump's ability to perpetuate these stereotypes and biases across mainstream platforms has only further proven that sexism and prejudice are ongoing issues in America.
Recently, I had the idea of showing Trump's most sexist quotes in the hands of real women. A few of the brave and talented women of Elite Daily volunteered to jot down these quotes on poster boards and pose with them.
The photo shoot certainly helped enhance the demeaning nature of Trump's casually uttered words.
Although, as we wrapped up the photo shoot, we couldn't help but wonder if there was more we could do to display the absurdity of the Republican front-runner's grossly chauvinistic view of women.
Well, what better way to further show the impracticality of sexism than to apply it to men?
What if it were assumed that men were only hired based on looks? What if they were outwardly judged for their penis size or accused of using sex appeal to manipulate others into getting what they want?
Obviously these aren't original Trump quotes, but they're pretty damn close. We've adjusted the pronouns and genders to show what it would look like if his most sexist quotes were about men.
Size obviously matters.
Original quote: "A person who is very flat-chested is very hard to be a 10."
Men only get hired based on looks.
Original quote: I mean, we can say politically correct that look doesn't matter, but the look obviously matters. Like you wouldn't have your job if you weren't beautiful.
It would be absurd if our next president were a man.
Original quote: "Look at that face! Would anyone vote for that? Can you imagine that, the face of our next president? I mean, she's a woman, and I'm not supposed say bad things, but really, folks, come on. Are we serious?"
Any time a man drops to his knees, it makes for an easy joke.
Original quote:
Trump: "Excuse me, you dropped to your knees?"
Woman: "Yes."
Trump: "It must be a pretty picture, you dropping to your knees."
Everyone knows a man is only as good as his dick.
Original quote: "You know, it doesn't really matter what they write, as long as you got a young and beautiful piece of ass."
Men are expected to flirt and use sex appeal to get what they want.
Original quote: "All of the women on 'The Apprentice' flirted with me - consciously or unconsciously. That's to be expected."
The male body was basically created to manipulate females. Even the smart and masculine ones are needy and controlling.
Original quote: "Women have one of the great acts of all time. The smart ones act very feminine and needy, but inside they are real killers. I have seen women manipulated men with just a twitch of their eye -- or perhaps another body part."
Never give a man valuable assets to call his own. It's called a prenup, ladies.
Original quote: "I would never buy her any decent jewels or pictures. Why give her negotiable assets?"
Getting "vagina-ed" means losing to a woman. It happens to men all the time.
Original quote: "She was gonna beat Obama. I don't know, how could it be worse? But she was going to beat... she was favored to win... and she got schlonged. She lost. I mean she lost."
Overweight men have no place in show business.
Original quote: "If I were running 'The View,' I'd fire Rosie O'Donnell. I mean, I'd look at her in right in that fat, ugly face of hers, I'd say, 'Rosie, you're fired!."
It's a shame, but men often win in life due to their sex appeal.
Original quote: "It's certainly not groundbreaking news that the early victories by the women on 'The Apprentice' were, to a very large extent, dependent on their sex appeal."