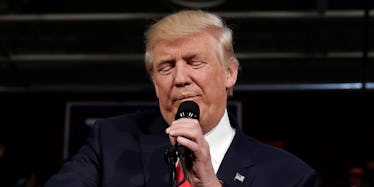 Trump Mocks Another Woman In Unaired 'Apprentice' Footage: 'Her Skin Sucks'
REUTERS
You thought the Donald Trump "pussy" rant was bad? Well, wait for what's coming next.
His campaign is no doubt bracing for what could be a whole host of unaired, controversial comments the presidential hopeful may have made in the past.
It's already been reported Trump was caught on camera saying the N-word during an "Apprentice" episode.
TV producer Chris Nee posted on Twitter on Sunday stating she's heard rumors Trump used the racist language in unaired footage but suggests it's unlikely the video will come out because the "leak fee is 5 mil."
She later deleted the tweet along with her profile photo and stressed she does not have the footage and has never worked on the show.
However, in an entirely different leak of transcripts from "The Apprentice," Trump allegedly told contestants a woman they were working with has skin that "sucks," along with other nasty comments about her appearance.
The transcripts, obtained by the Huffington Post, claim Trump was referring to country singer Emily West in an episode from 2010.
One team had been tasked with raising her profile through marketing packages and interviews with top dogs from the music industry.
He was talking to contestants in a board meeting once the task was complete when he allegedly said,
I assume you're gonna leave this off, don't put this shit on the show, you know. But her skin, her skin sucks, OK? I mean her skin, she needs some serious fucking dermatology.
At this point, the team leader said they had used "dry stuff" and Trump continued,
Fuck, that's Emily, that's what I'm hearing about? Let me see the other one. I assume you're not putting this on the show. I don't wanna destroy the kid's career.
The transcript is not the smoking gun ready to bring down his presidential campaign (because there have been bigger guns, which have thus far been unsuccessful), but it's another nail in the coffin for a man whose misogyny might finally end him.